RECORDING SESSON WITH MEDESKI AND MARTIN (MMW) TRIO & QUARTET IN WOODSTOCK, NY 
April 2022 , Woodstock, NY... Ari spend a few days tracking  Trio and Quartet John Medeski Billy Martin of Medeski, Martin and Wood! The music was both composed and improvised. Long time music friend and collaborator Jason Fraticelli joined in for a day of songs. Fans of Ari's will know Jason from the Robert Glasper, KJ Sawka sessions of which the first single came out last year. Jason was performing with Cyro Baptista in Boston and popped in on his way to Philly! 
"The studio was fantastic. Chris and Mike where extra helpful in making it a great vibe. Spent the nights in a cabin by a river and woke up ready to go every day!" Says Ari. "John Medeski and Billy Martin are two of the most Generous and Creative minds I have worked with. I felt and instant connection and can't wait to listen, mix, and master this material to share with the world."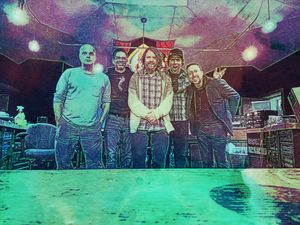 MMW is one of the most creative and listened to avant gaurd forwad thinking bands of a generation, if you are not familiar with this band - do your self a favor go check it out!
More content will be shared on this site soon, as well as special content for subscribers!