Waltz of 1000 Stars is a composed piece, inspired by the classical music of the late 1800's and early 1900's and also by the works of game henge you would hear in the early 90's...  There is an underlying story but feel free to endulge your own imagination. 
Recorded in the middle of the Pandemic in Burlington, VT in 2020, just after the Beacon Jams shows TAB put on. 
More info on TAB here https://trey.com/. more on Ray and Russ's Duo here https://soulemonde.com/
Waltz of 1000 Stars is the type of song you may hear and wonder where you heard it before. It came to me with my eyes closed, almost all the way. Just in one sitting, it was like a story unfolding. Sometimes the mood calls for Rock, Funk, Jams, and Improv... Some times it calls for jazz, some times I wanna sing like the Rock n Roll giants of the 90's, but some times the music just comes like a painting, the frame, the corners, the themes all mostly in place. 
The first 7 songs from this session are already out under the Album Named RAaR also available on all outlets, this works highlights some of the other areas we explored as a trio. Not only are Russ and Ray almost 30 years deep in playing regularly with one of the greatest musicians of our times (you guessed who). They are also incredible warm and sincere artists, and musicians ready to work on anything. For me, a player who mostly hasn't been able to keep a steady band together for various life reasons... This was a chance to walk into a creative environment with all my tap's wide open. There seems to be an endless flow of music coming out of me, and if I had it my way I would have a touring band, a band of brothers, always ready to try stuff on. It was like stepping into a dream with Ray and Russ! I can see why any band leader, especially one with a priority on exploring the NOW, would keep working with them!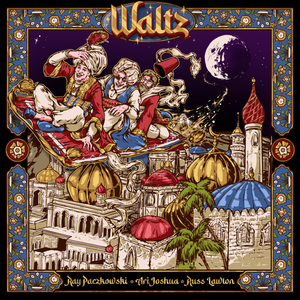 I love to play with people who have more experience, or who are able to take the music into realms and places I imagined. It's like playing in 4d. 
OUT NOW 
https://arijoshua.com/music
Sheet music available here 
https://arijoshua.com/merch
Ari Joshua - Guitar, Ray Paczkowski - Keys, Russ Lawton - Drums, Ben Collette - Engineer, Aaron Harmonson - Assistant production, Rimbaraw - Art, Music Factory Records