https://sinusoidalmusic.com/reviews/music-reviews/ari-joshuas-reimagination-of-help-on-the-way-is-a-psychedelic-dreamscape/

Music Reviews Rock·- August 20, 2023
Ari Joshua's Reimagination of "Help On the Way" is a Psychedelic Dreamscape

Ari Joshua's spin on the legendary Grateful Dead classic, "Help On the Way," is like taking a familiar road and suddenly discovering a hidden path leading to a whole new universe. The way he intentionally sprinkles in those psychedelic flavours in the song is where it gets a different yet delightful twist from the original.

Ari Joshua's guitar in "Help On The Way" feels like he's crafting a tale with each strum, transporting you to your own personal moments of nostalgia and reflection. The entire cover with its exquisite production, sounds like a musical daydream that whisks you away. Suddenly,  you're just floating in a sea of sound, surfing on waves of melody and emotion.
The guitar solo deserves a special mention. It's where the music goes beyond what you hear and starts painting pictures you can practically touch. The skillful playing by Joshua, the guitar's rich timbre, and the rhythmic cohesion, all feels both stunning and vividly real. John Morgan Kimock, the rhythm maestro, ties the song together with a groove like no other. You can call it a dance floor fiesta, and a cosmic odyssey all at once.
Ari Joshua has taken "Help On the Way" and embraced it completely, whispering a new life into it. While sounding familiar yet fantastically new, this is an experience you can't miss. Check out the song here!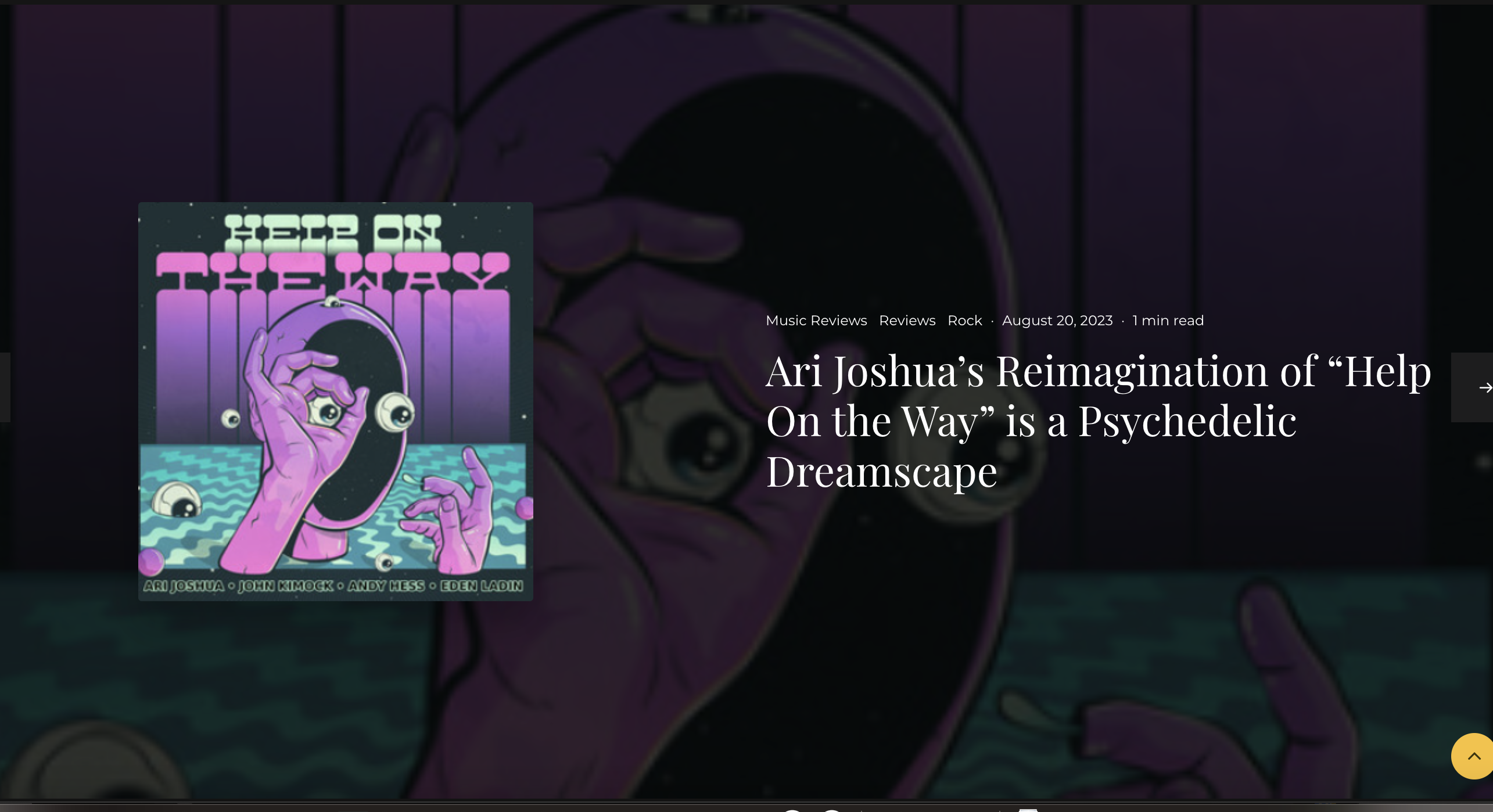 Ari Joshua, Help On the Way on sinusoidalmusic FaceBookPage
Ari Joshua, Help On the Way on sinusoidalmusic TwitterPage
Ari Joshua, Help On the Way on sinusoidalmusic InstagramPage
---

https://twitter.com/MusicSinusoidal/status/1693509097096896668?s=20
https://www.instagram.com/p/CwMk3qFS6mh/?utm_source=ig_web_copy_link&igshid=MzRlODBiNWFlZA==
https://www.facebook.com/100064105662406/posts/pfbid0jAXheoTi17drNu1thWNTStGgUqygrLR56zrDrb3K7VRwhAL2VRGbpM8YFD6xjeDsl/?mibextid=cr9u03