Ari Joshua Announces New 'RAAR' EP Featuring Trey Anastasio Band's Ray Paczkowski & Russ Lawton
The Ray, Ari and Russ (R.A.a.R) Trio will perform two late-night shows, on October 30 and 31, after Phish's concerts in Las Vegas.
By Team JamBase Oct 22, 2021 • 4:31 pm PDT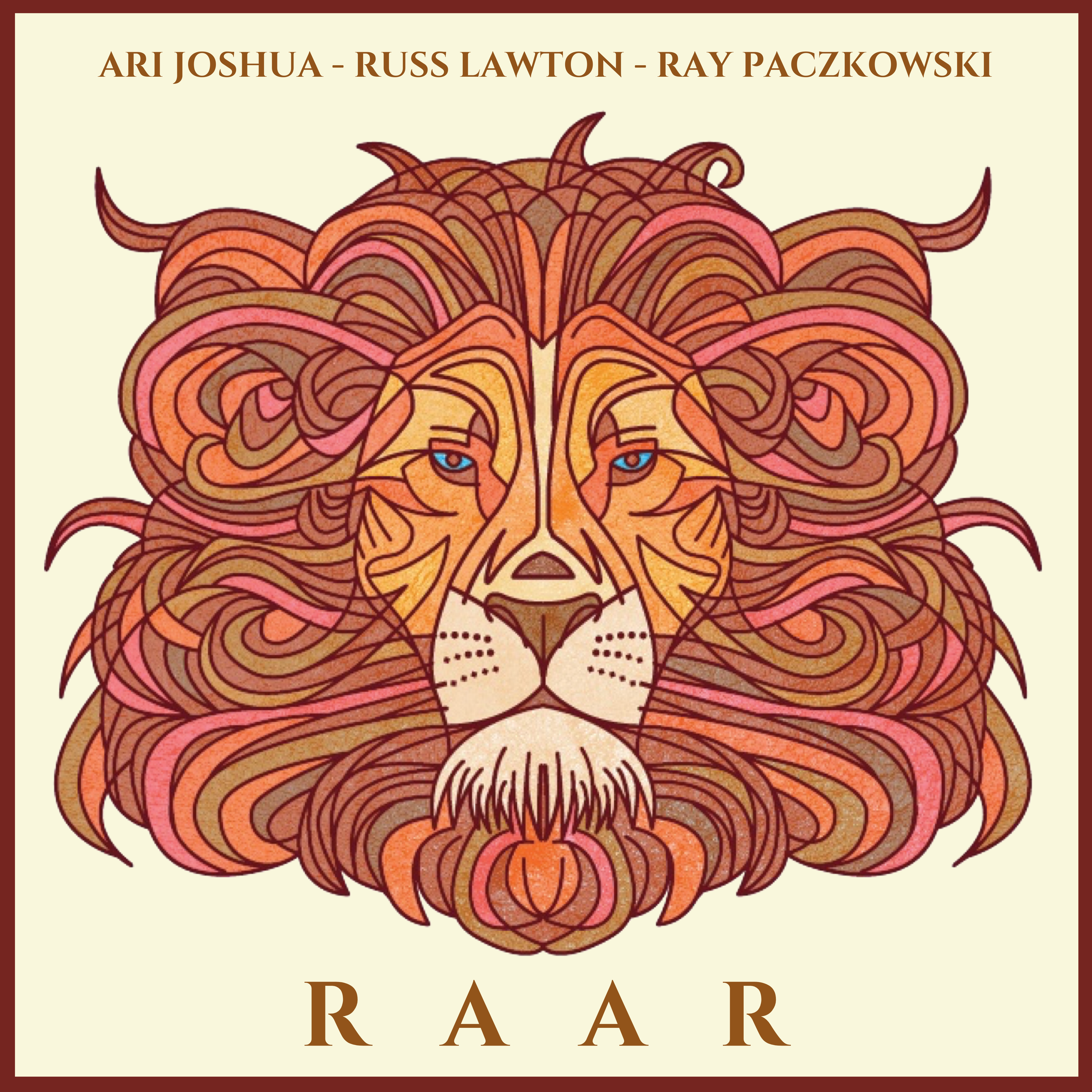 A new six-song EP, RAAR by guitarist Ari Joshua, featuring Ray Paczkowski and Russ Lawton from Soule Monde and the Trey Anastasio Band is coming this November. More gorgeous original psychedelic rock-jazz fusion tracks from the February 2021 recording sessions in Burlington, Vermont can be anticipated for intermittent release in the coming months.
The Ray, Ari and Russ (R.A.a.R) Trio is scheduled for two intimate late-night throwdowns, on October 30 and 31 after Phish's sets at MGM Grand Garden Arena in Las Vegas. These shows at Notoriety Lounge on Fremont Street will be the trio's first performance since recording during the pandemic in Burlington.
Expect to see Ray on his usual analog heavy organ, Clavinet, and Wurlitzer set up, Ari, an innovative singer-songwriter trained in jazz and ready to go in any direction, will have a tasty set up of spooky soulful tones, and Russ always holds down a groove you can dance to all night long. Notoriety's doors will open at 10 p.m., and the shows will extend late both nights. Advanced ticket purchases are advised as the space is limited to about 300 at a time. Tickets can be purchased through Notoriety Lounge at www.notorietylive.com.
The ensemble has a list of over 30 original songs to pull from (some of Ray 'n' Russ' and some of Ari's) covering all genres but rooted in the same solid groove fans of Soule Monde and TAB know well. It's a great place to see these players in a raw trio format, plus, you never know who may stop by! Bring your costume, and late nite party vibes; this party is all about the music, the soul, and charting new grooves!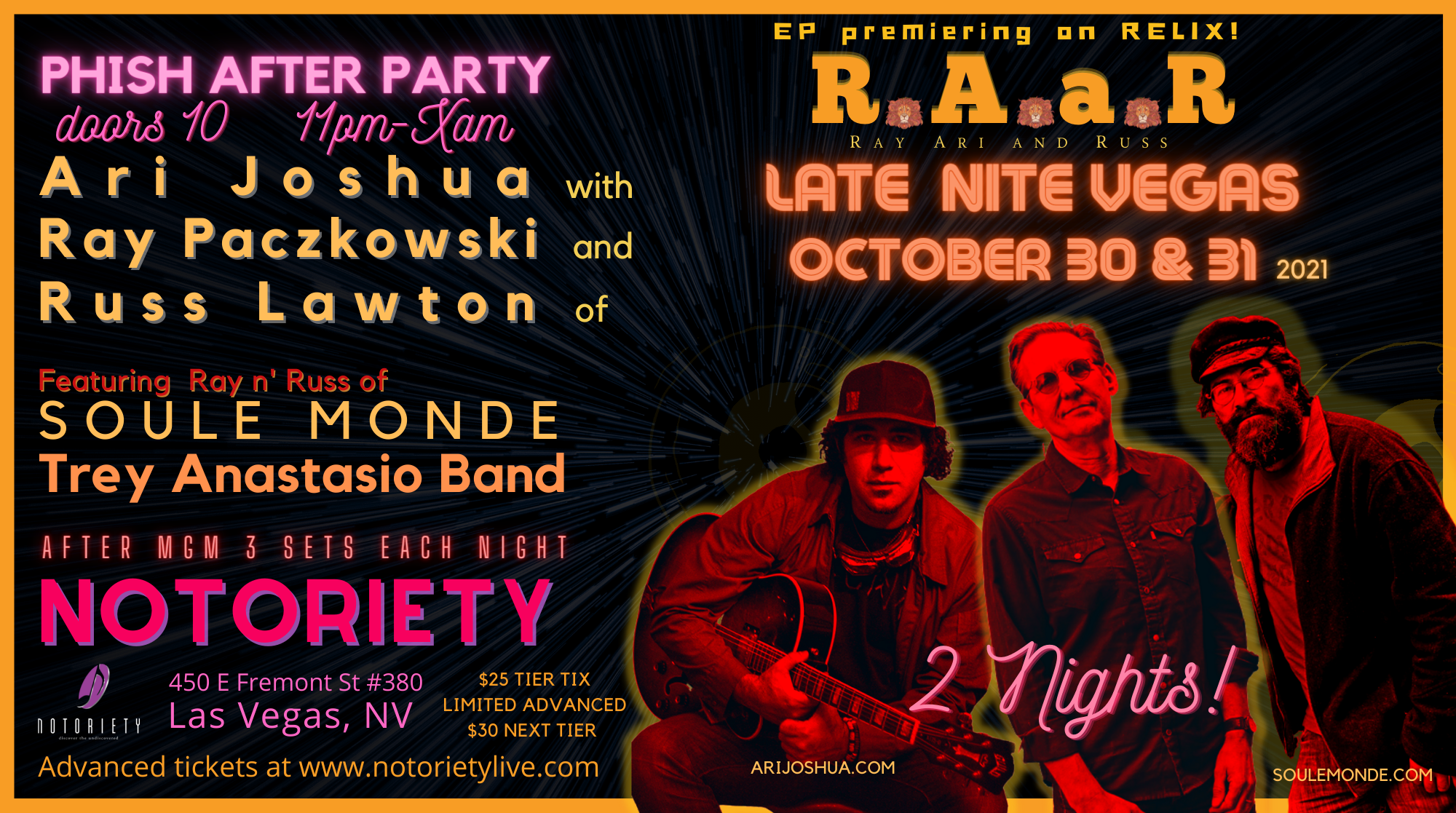 The power trio formed in Burlington, is releasing its debut six-song EP under Ari Joshua's label this November. The first two singles from the project "Father Time" and "Star Lord" are already available on all digital stores.
Back in the Winter of 2020/2021, in the middle of the pandemic, Ari Joshua flew into the snowy city of Burlington, Vermont to collaborate with drummer Russ Lawton, organist Ray Paczkowski, and long-time Phish Vermont recording engineer Ben Collette. The excitement sparked an intense and healthy writing spree. Ari composed about 25 demos in all.
Ari had already composed vocal tracks "Rae of Light" for his 90-year old grandmother's birthday, and "Gran-mama" for his deceased grandmother. It was a treasured experience to record these two sentimental tracks at The Tank in Burlington with such wonderful musicians.
"When I arrived and we started to play, the chemistry and like-minded musical approach opened the doors to a memorable session that I will never forget," says Ari. "These guys were a lot like me, just serious, and ready to get to work."
The trio managed to record versions of all 25 demos; mostly brand-new compositions and concepts. "Star Lord" was originally named "Country Hoppin," written while Ari was flying from the West Coast to the East Coast. He wrote "For Ray" for Ray Paczkowski to shine a light on his unique approach on the organ. "The Bernie Meme" was inspired by the viral photograph of Vermont Senator Bernie Sanders in his hand-crafted mittens during President Biden's inauguration — Ari was, after all, in Burlington, Vermont. The creative vibrations of life rippled through musical hearts and hands in a Northeastern snow-covered studio.
Ari began releasing songs from his Vault earlier this year, including original recordings with artists such as Robert Glasper, KJ Sawka and Delvon Lamarr. The six songs from the EP are set to release in November. The singles "Star Lord," "Father Time" and "Rae of Light" are out now!
When the Ari Joshua Band plays it's a full-fledged high-energy dance party. The Ari Joshua Band's current lineup features Willow Goodine (Swindler) on keys, Eric Hullander on bass, and Luca Cartner on drums. This lineup is scheduled to play at The Hidden Door in Shoreline, Washington on Saturday, November 6.
The pandemic allowed for Ari to shift his focus closer to where his heart is, which is to travel and spread expressions of love and joy through psychedelic jazz and rock. He's most excited to share his work with the beloved passionate listeners of the jazz, and Jam music scenes where improvisation and compositional music is most appreciated.
For those unfamiliar, Ari is a Cape Town, South African born – American raised guitarist. After attending The New School in NYC. He is the founder and owner of The Music Factory, an online music lessons portal, and Seattle's in person music school. The Music Factory is now almost 15 years running, employing close to 100 musicians since its inception. Music Factory teachers have taught over 30,000 lessons to students of all ages, and skill levels.
Visit www.arijoshua.com for video clips of past shows, the recent releases already out, merch, updates, and the soon to come RAAR EP.