https://www.jambase.com/article/ari-joshua-skerik-delvon-lamarr-polyrhythmics-say-whatcha-wanna-say
Ari Joshua Shares New Single 'Say Whatcha Wanna Say' Featuring Skerik, Delvon LaMarr & Grant Schroff
Stream an exclusive premiere of the new track.
By Andy Kahn Jun 25, 2021 • 10:55 am PDT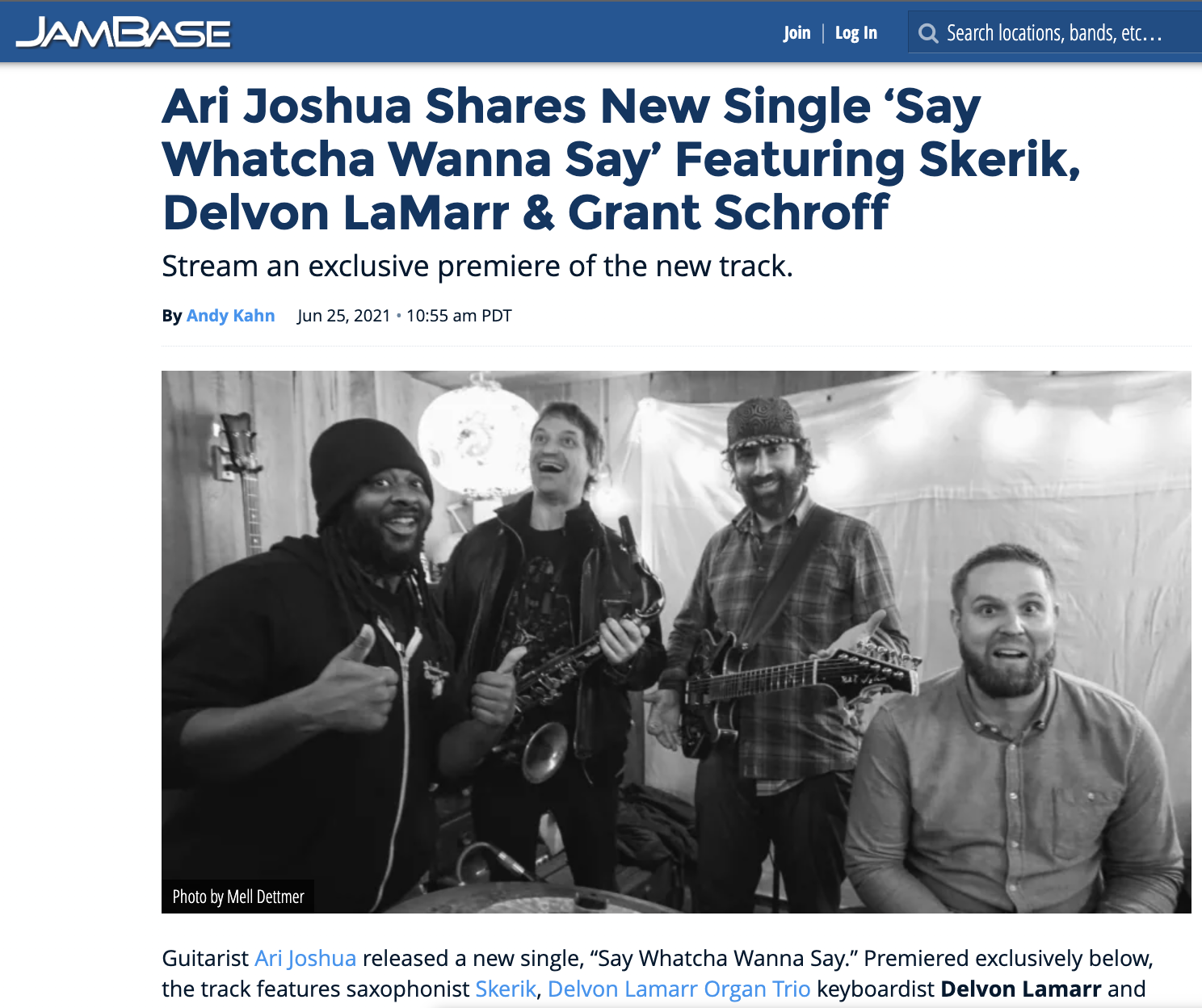 Photo by Mell Dettmer
Guitarist Ari Joshua released a new single, "Say Whatcha Wanna Say." Premiered exclusively below, the track features saxophonist Skerik, Delvon Lamarr Organ Trio keyboardist Delvon Lamarr and Polyrhythmics drummer Grant Schroff.
Joshua described collaborating with the other musicians that contributed to the new track. The guitarist stated:
"For years I've always dreamed of putting an organ quartet with this line up together. I'm a Hammond organ fiend for the sound and the feel. Few people can do what Delvon, Skerik, and Grant can do. I've played with all these guys individually for years on pickup gigs, but we never recorded together.

This session was like swimming in an ocean of 'hot damn!' The songs felt like they played themselves. I chose 'Say Whatcha Wanna Say' as the first single because it was the first song we played when we entered the room. It was a smooth take off as you can hear, and I can't wait to share the rest. Despite everyone's busy touring schedules the stars aligned, and everything just came out right, right out of the gates on this one."

 

 

 

 

 

 

 

 

 

"Say Whatcha Wanna Say" follows the March 2021 release of Joshua's first vault recording, a collaboration with keyboardist Robert Glasper entitled "Eyes Only." Another single, the playfully jazzy "Walmart Dinosaurs," was released in May.
"When I started to ask myself why I'm here, I began to get clarity," said Joshua. "One thing I realized is that I held music in such a high regard that I could never see tracks as finished. I also realized that I had I moved away from what I was meant to do. I'm here to make a musical cosmic connection with humanity!"
Steam Ari Joshua's new single "Say Whatcha Wanna Say" featuring Skerik, Delvon LaMarr and Grant Schroff: