Hello friends and fellow humans! 
It is such an honor to share with you the news this August. September will mark six months since buying The Music Factory building. It has been a complete joy working on repairs and upgrades, always exploring new ways to best serve the community. Having such a positive and beautiful dream unfold has inspired around the clock work planning our next steps. One area of focus has been developing a record label under the same umbrella: Music Factory Records. 

Explore Links Here - https://linktr.ee/musicfactoryrecords

I have included YouTube clips of the new music we are releasing this August. Everything is really clicking — there is so much to share. All of these players are so special, I encourage everyone to check out these new releases: 

Original works
Nun Kommt es Werder - feat: Lone, Harper, & Bean
Dragons Layer - Medeski, Martin & Fraticelli *from MMW
Kambo Wambo - Paczkowski & Lawton *from Trey Anastasio Band, Soule Monde

A pair of tributes for Jerry Garcia, and Dead and Co's final tour: 
Eyes Of the World - Ladin, Kimock, & Hess
Help On the Way - Ladin, Kimock, & Hess *Kimock is currently in the touring bands of Mike Gordon of PHISH and Otiel Burbridge of Dead and Co
Since February, we have received dozens of positive reviews! Read a few at https://arijoshua.com/recent-press, or visit the blog page. So much has transpired! It means the world to me when you all show support by listening to the music, visiting the website, and even buying merch to share the LOVE as I continue to pour my heart and soul into this work! 
The best way to get involved is to sign up for music lessons via The Music Factory. You can improve your life while signing up yourself, your kids, or your loved ones for instruction on all sorts of instruments. This fall, we will offer special deals during day-times and weekends.There are 3 ways to sign up; at our location, online via zoom, and in some neighborhoods we are offering weekly in-home visits! www.musicfactorynw.com/sign-up 
The next BEST way to support our efforts is to visit the online store https://musicfactory.creator-spring.com. New items becoming available each week: this link will continue working while our new online store is under construction. GO buy MERCH! I will be sharing proceeds with a few select charities, I will share the details in newsletters this Fall. 
All
new releases are on Bandcamp, Apple, iTunes, Spotify, and buy direct at my website. All links are on this LinkTree. 
Much Love, Ariel 
The Music Factory 
Music Factory Records 
www.arijoshua.com
www.musicfactorynw.com
Follow on Instagram 
Follow on Facebook 
---
LIVE SHOWS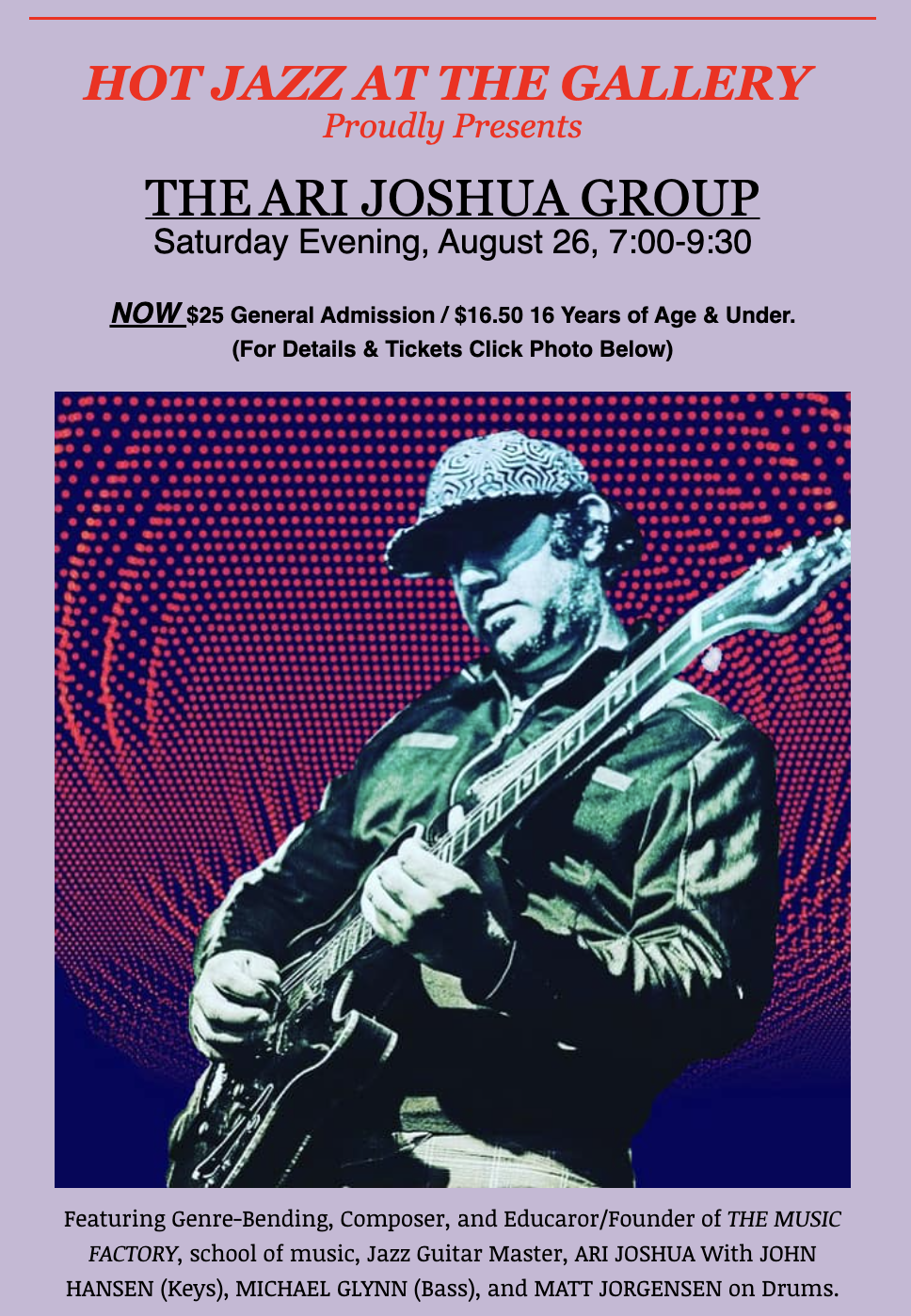 Fred Holmes Art Gallery 
ARI JOSHUA JAZZ QUARTET - August 26th, 7pm-9:30pm 
with Matt Jorgensen, John Hansen, Michael Glynn
Original Jazz Compositions
buy tickets here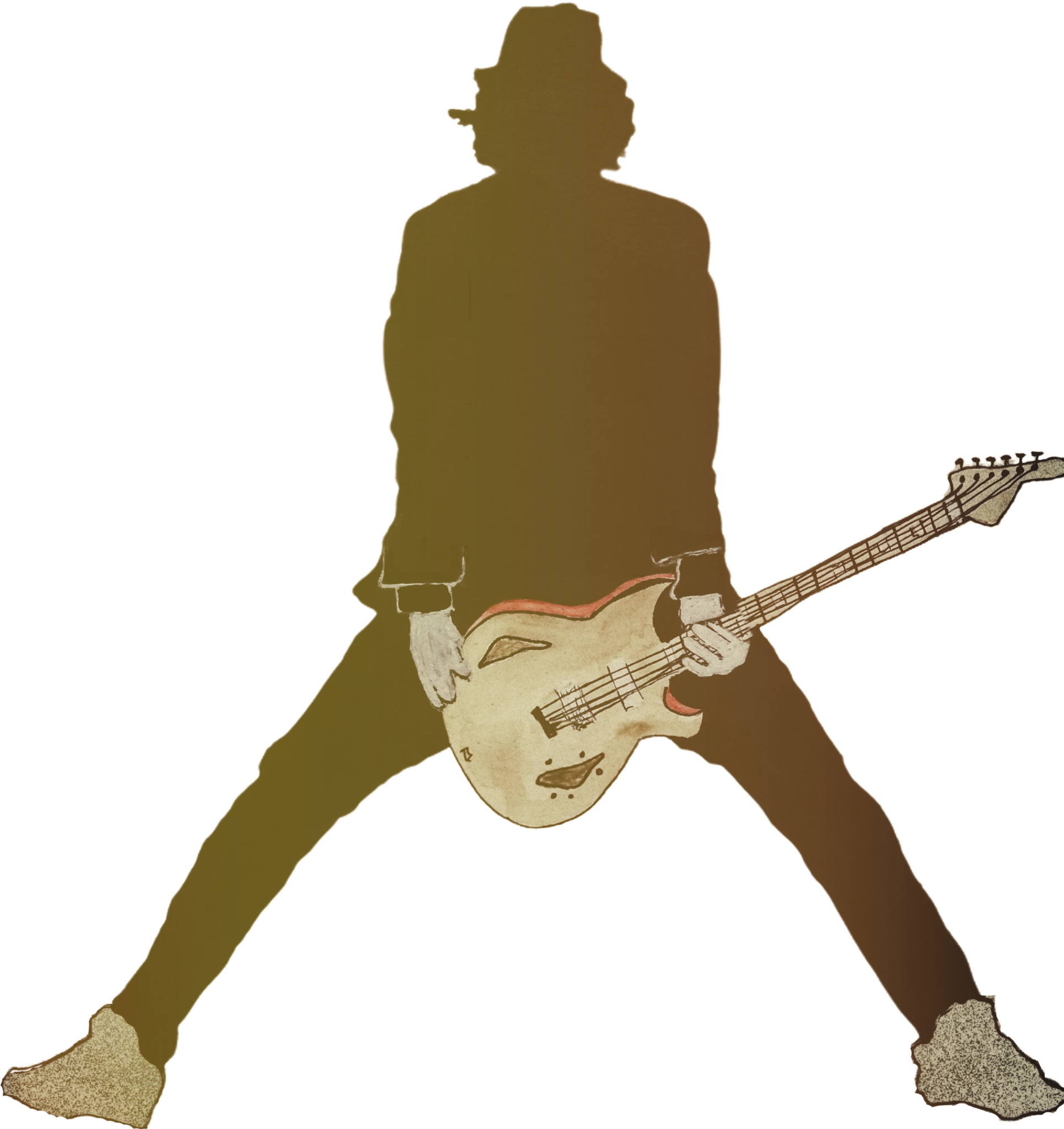 The Blue Moon
Ari Joshua & Friends - August 29th, 8pm-11pm
with Doug Octoport, Willow Goodine, Eric Hullander
Original Rock Compositions
tickets at the door
---
NEW RELEASES for AUGUST 2023!  - Click to listen, streaming everywhere 
Jambase's Andy Kahn shared a nice article on Help On the Way this week:

https://www.jambase.com/article/ari-joshua-help-on-the-way
Music For All Magazine's Luanda Myers is a nice read, be sure to translate to English though :) it's a Brazilian publication:
https://musicforall.com.br/the-ari-joshua-quartet-se-deleite-com-a-viagem-sensacional-do-single-and-now-it-comes-saiba-mais/
Kambo Wambo is now released, starting today, Friday 8/18! It features the Vermont Duo most known for their work with Trey Anastasio, and Soule Monde. This original music has an Afrobeat groove and it's a 20-minute extended jam! Read More.
 



Dragons Layer has that Adult Swim, cartoon theme song vibe to it. It features two of my all time favorite musicians of all times. MMW's John Medeski, and Billy Martin and it also features my longtime friend Jason Fraticelli, bassist for Matisyahu, and Cyro Baptista. Read More.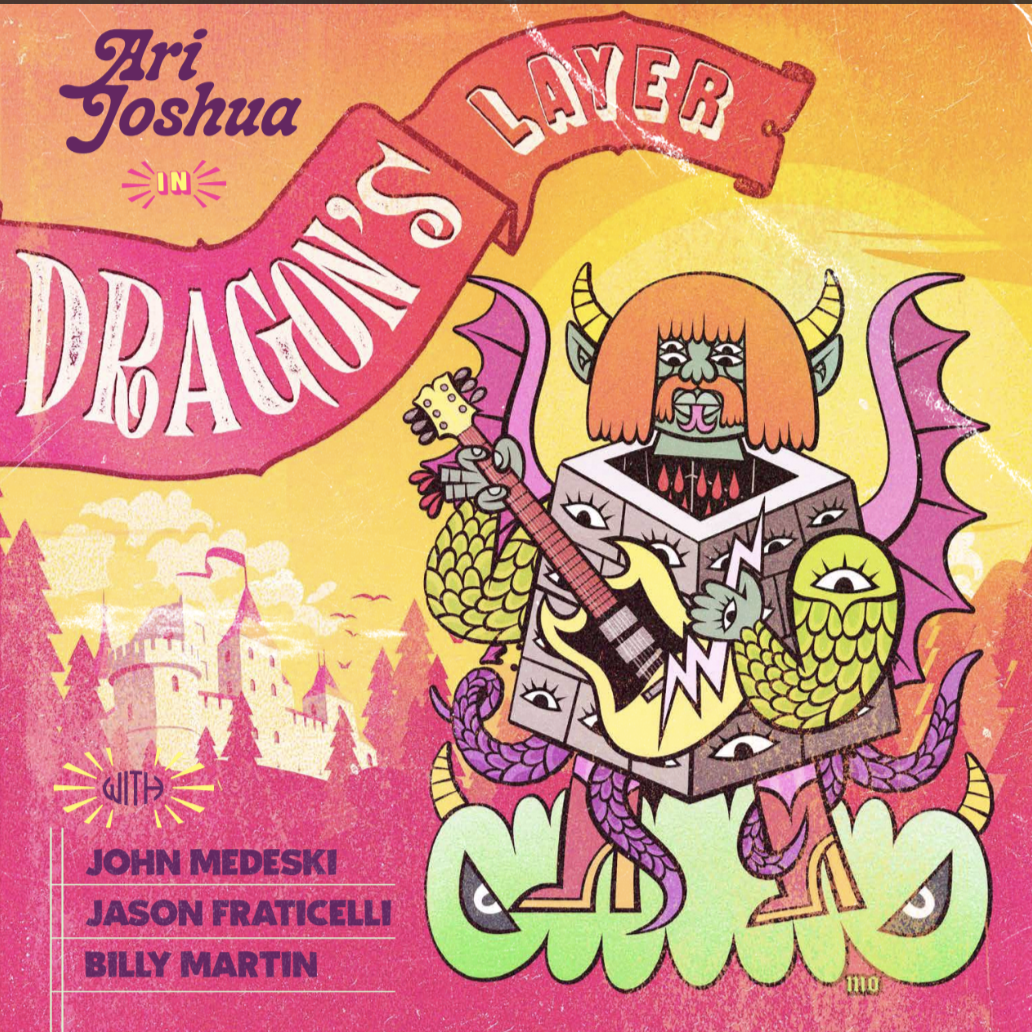 Thank you so much for being here with me, for staying in orbit with my dreams, and I wish you all the best of health and fortune this year! Below are a few more links to some write-ups. Remember, your support means the world to me! 
Love, 
Ari