Ari Joshua unites top Seattle players on new soul jazz singles
Published March 3, 2023 at 6:00 AM PST
Guitarist Ari Joshua continues to release recordings from his vault of recent projects and new efforts. Most recent is the single "Fresh," bringing Joshua and three friends from the Seattle area together for a soulful groove and the promise of more to come.
Color Red Music has announced two more digital singles will follow last week's release. The recordings will be released in the next two months with this same lineup of celebrated musicians. Though it's their first opportunity to record together, these musicians do share some history.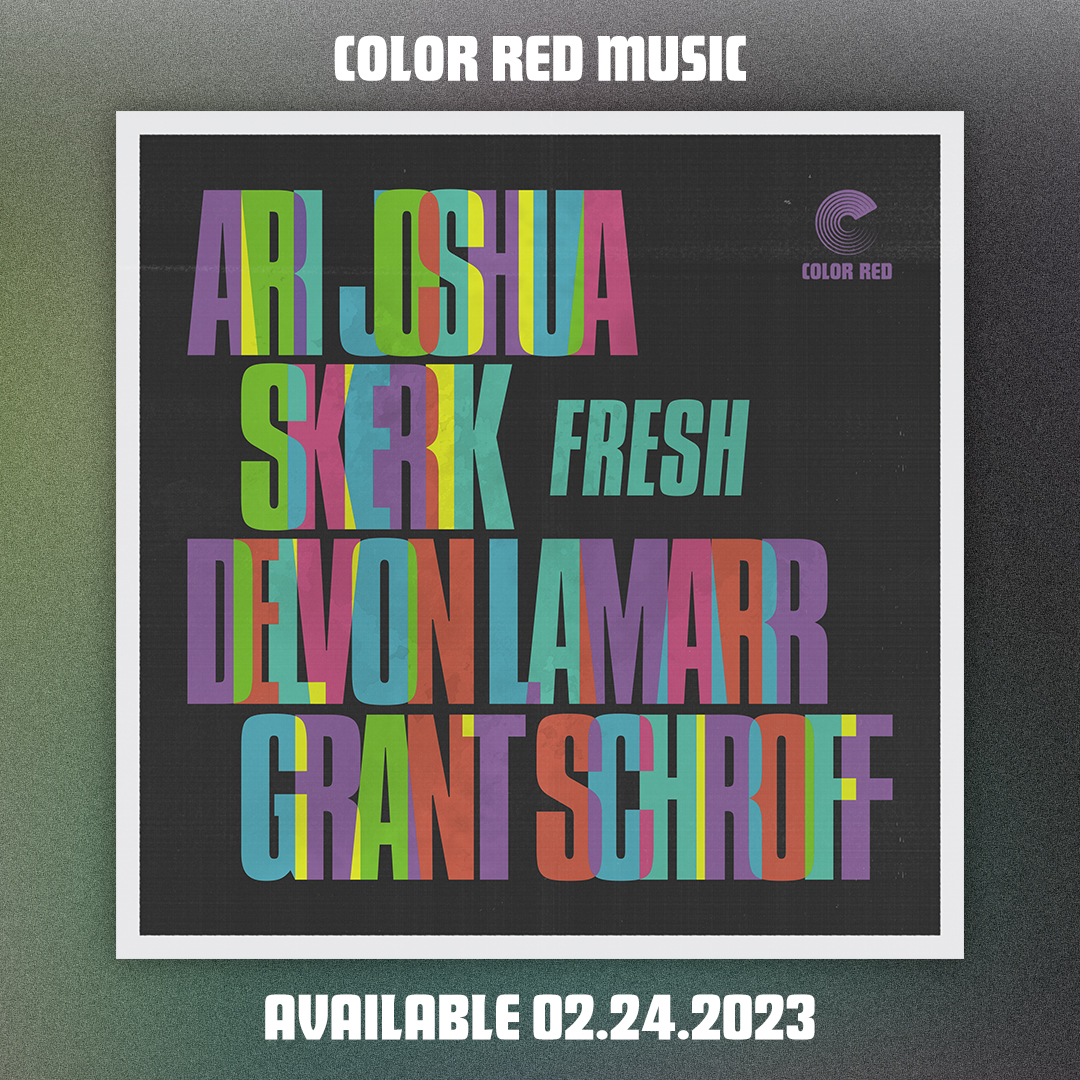 Joshua has played with Delvon Lamarr since before Lamarr was playing the organ. Now, the Delvon Lamarr Organ Trio is one of the top selling acts in instrumental music. The guitarist has been a fan of Skerik long before sharing the stage. Joshua also noted his luck at landing the busy Polyrhythmics drummer Grant Schroff for this recording session.
"Every member of this band travels a lot," Joshua explained. "It's magic that it came together, I hope the listeners enjoy the results."
The connections between these musicians made it easy. Schroff also has history with Lamarr, drumming on the DLO3's 2011 album I Told You So. When their busy schedules allowed, these four have worked together in various settings in the past decade.
Unfortunately, complicated travel schedules lend some uncertainty to the lineup celebrating the new single at the Seamonster Lounge in Wallingford, Thursday, March 9. Billed as Ari Joshua & Friends, Joshua told The New Cool that he's working on the personnel for the show as of press time.
There's no doubt that whichever of these three friends can make it, and whomever else finds their way on stage with Joshua, it's sure to be a good time. That's the idea as these four bring a modern energy to the classic organ quartet on the new single "Fresh."
Schroff's pocket-packing drum beat kicks in with Joshua's wah-wah rhythm guitar and Lamarr's organ backing. Then Skerik lays out the central melody of "Fresh" on tenor saxophone before the solos get passed around.
Joshua takes off first with a distorted fusion sound buzzing toward a soulful solo run from Skerik, putting his particular twist on a sound reminiscent of sax greats like Houston Person and Pee Wee Ellis. Lamarr's smooth turn on the organ brings us back to the song's theme and Schroff's steady hand guides them home.
The bright recording dances with the nostalgic organ jazz tradition while subtly energizing the music with a modern perspective adding just enough attitude to keep it fresh, as the song's title demands.
Listen for "Fresh" on the New Cool Friday night and leave yourself time to recover from the concert March 9.
Skerik will also be performing at Seamonster March 11 as Crack Sabbath with organist Ron Weinstein and drummer Mike Stone , the late show begins after a 10pm set from DJ Woogie.
Joshua will explore his more traditional jazz side with a quartet and vocalist Chava Mirel at a soon-to-be-announced show at the Royal Room April 9

The New Cool airs Fridays at 9 p.m., hosted by Abe Beeson and produced by KNKX Public Radio in Seattle, Washington. 
Abe grew up in Western Washington, a 3rd generation Seattle/Tacoma kid. It was as a student at Pacific Lutheran University that Abe landed his first job at KNKX, editing and producing audio for news stories. It was a Christmas Day shift no one else wanted that gave Abe his first on-air experience which led to overnights, then Saturday afternoons, and started hosting Evening Jazz in 1998.