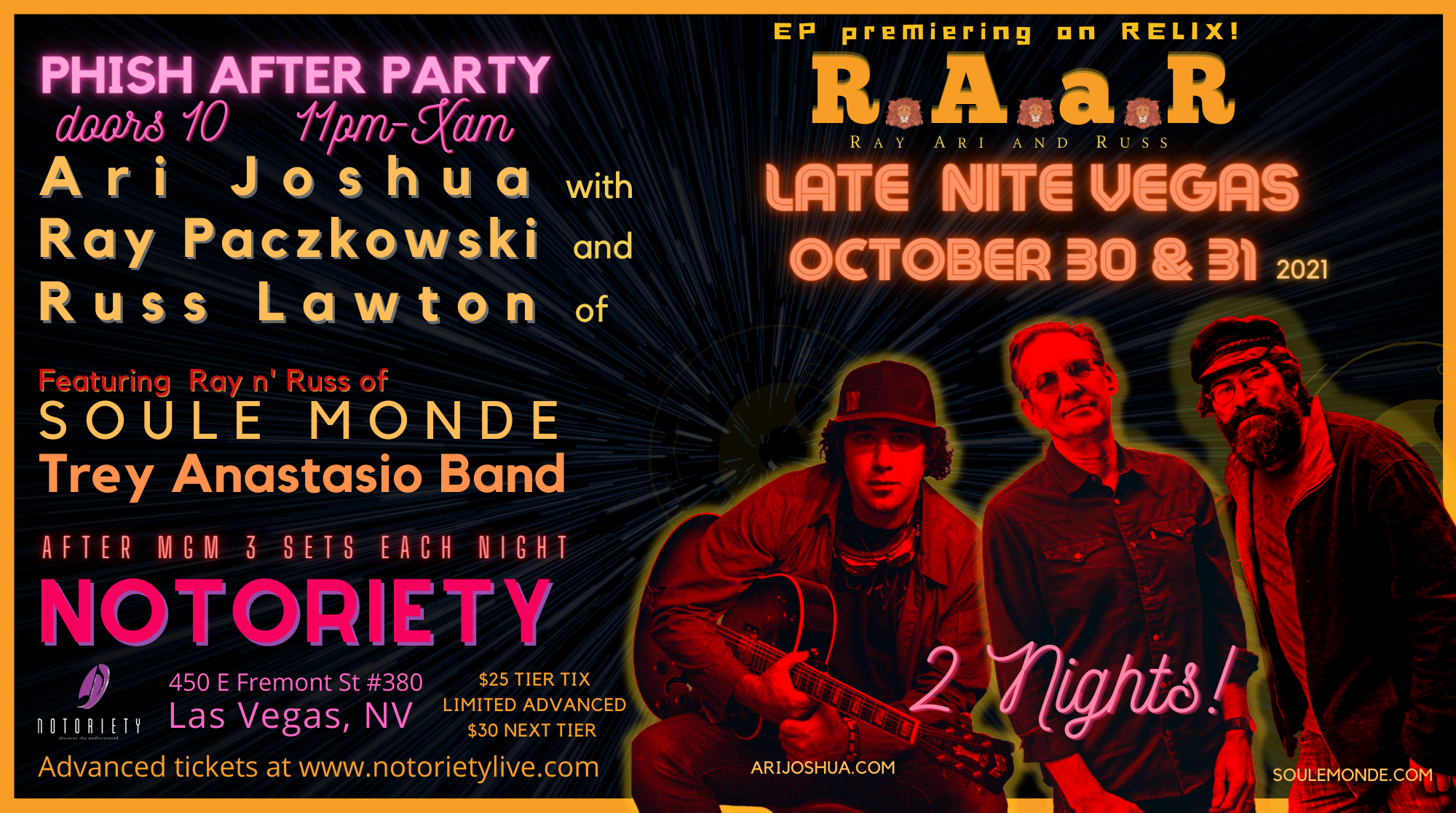 The Ray, Ari and Russ (R.A.a.R) Trio scheduled two intimate late-night throw-downs, on October 30 and 31 after Phish's sets at MGM Grand Garden Arena in Las Vegas. The shows at Notoriety Lounge on Fremont Street were the Trio's first performance since recording during the pandemic in Burlington.  
Attendees got to see Ray on his usual analog heavy organ, clavinet, and Wurlitzer set up. Ari, an innovative singer-songwriter trained in jazz and ready to go in any direction, had a tasty set up of spooky soulful tones, and Russ held down the groove we danced to all night long.

Notoriety Lounge (www.notorietylive.com) is located at 450 E Fremont Street on the third floor.  The location required an elevator to find, but the balcony view of the rotunda a hundred yards away from the lights of the Fremont Street strip was beautiful and it felt rather exclusive.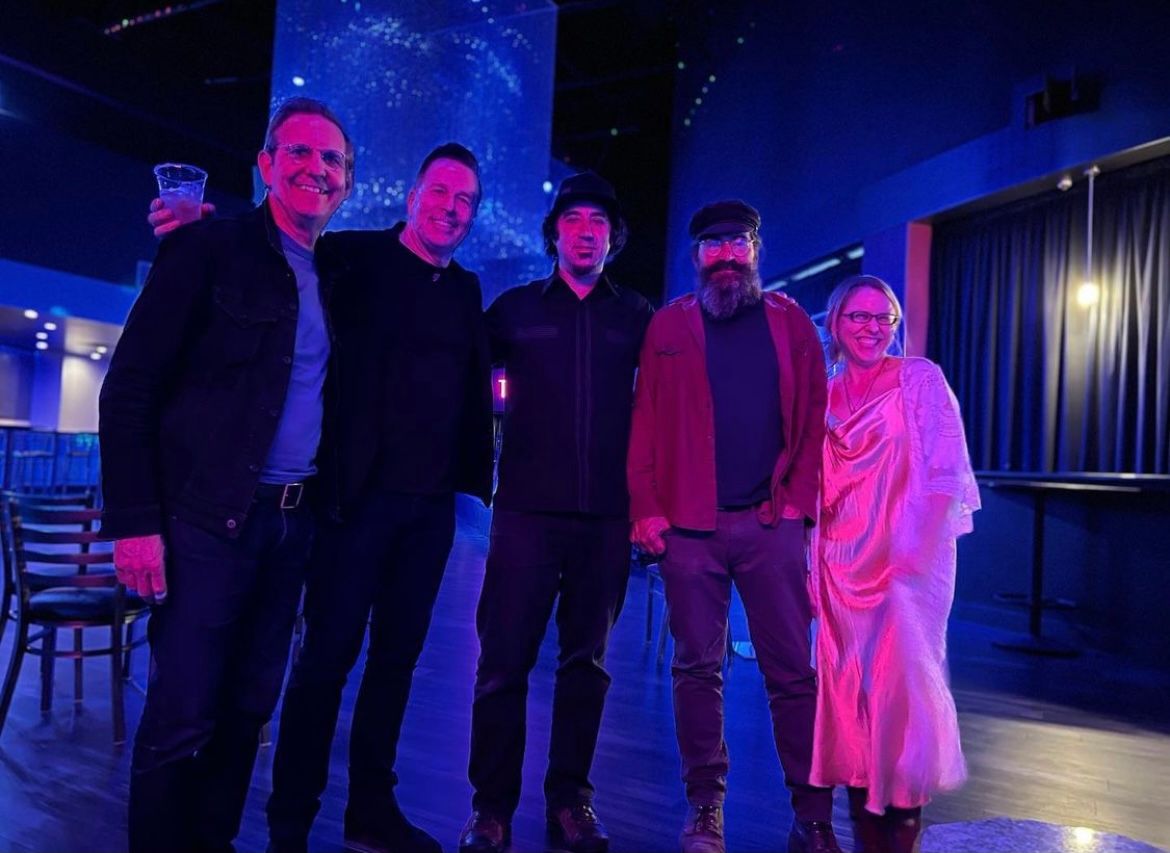 The stellar Phish show on the 30th wrapped up around 12:30am, so fans determined to see RAaR made it to Notoriety around 1-1:30am.  Getting out of the MGM Grand maze is a challenge for anyone, and finding Notoriety amidst the hundreds of thousands of glittering lights and the costumed crowds was also a distracting obstacle course, so we were amazed by the terrific turn-out! 
Ray, Ari and Russ performed three killer sets of dance-friendly songs from both Soule Monde's albums and Ari's compositions including previously released 'Father Time' and songs from the soon to be released 'RAaR' six-song EP.  
Setlist for Saturday, October 30th 2021: 
Set I - Strut, Star Lord, The Jodi Grind, Audio Bicycle Day (#6), Ollie, For Ray, The Nail 
Set II - Tinyland, Ellsies Song, Gramama, Bernard, Inertia, The Bernie Meme, Allah Uya, After Midnight, Mimi Digs It, Melodies 
Set III - The Jodi Grind reprise, Slide B, Introductions, The Bear Necessities, La Grange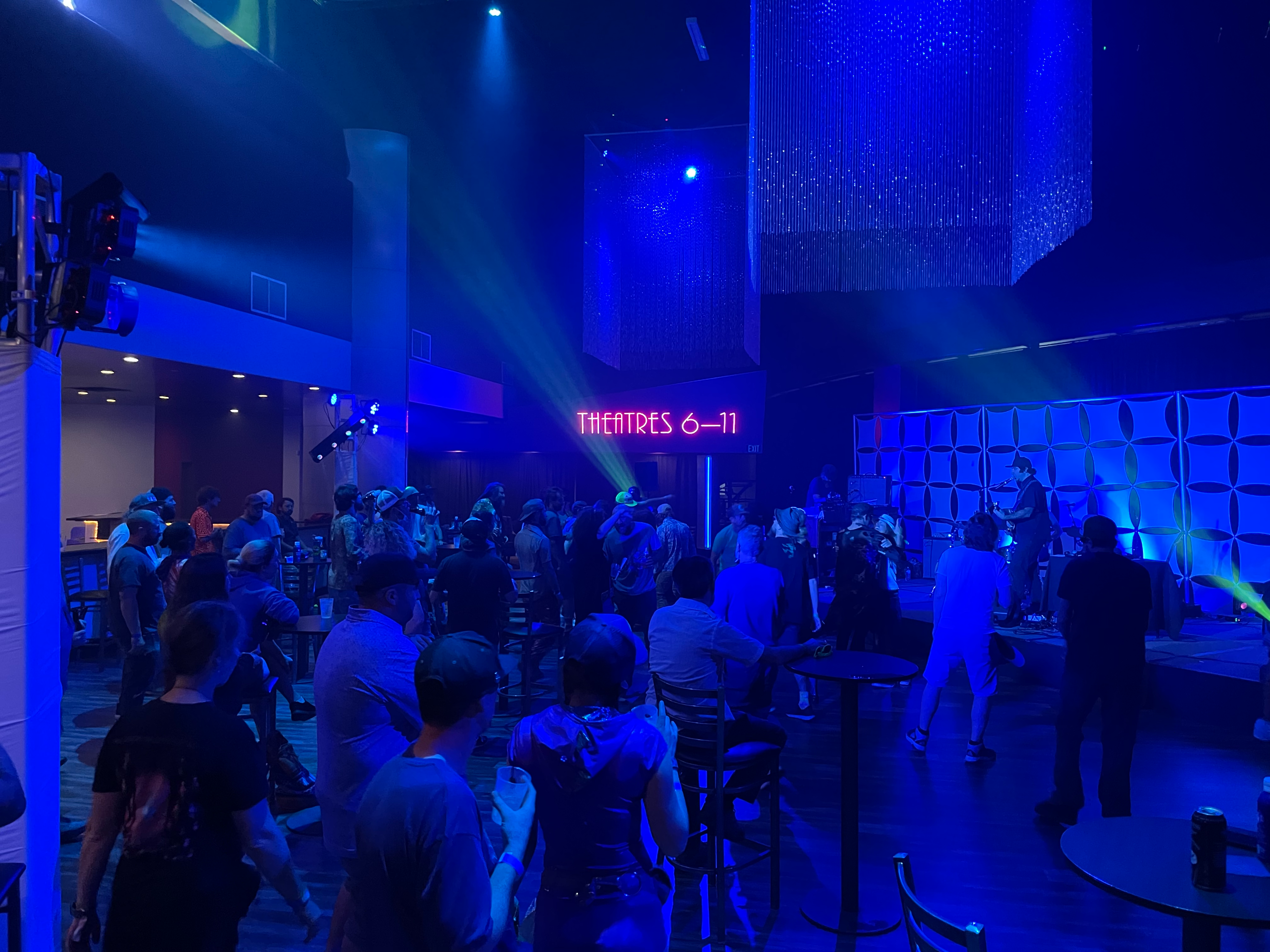 It was a great place to see these players in a raw trio format.  Most everyone came in costume, and we danced until around 4am.  
Sunday night's Phish show didn't end until around 2am!  Again, we were happy to see so many people who powered through the night to come see RAaR.  Many of the attendees had also come to the Saturday show and reported having had such a great time that they had to come back for the second night!  
Setlist for Sunday, October 31st 2021:
Set I - Audio Bicycle Day (#6), Slide B, Miss Miriam, Afro Beat Song 
Set II - For Ray, Elsie's Song, Burlington Coat Factory, Nail, Gramama 
Set III - The Jodi Grind, Bootsy Bonham, Inertia, Take a Little Sip, Ollie, Voodoo Chile (Slight Return), All Along the Watchtower
The audio files for the shows will be made available soon! 
The power trio formed in Burlington, is releasing its debut six-song EP under Ari Joshua's label this November. The first three singles from the project "Father Time," "Rae of Light" and "Star Lord" are already available in all digital stores.  
Back in the Winter of 2020-21, in the middle of the pandemic, Ari Joshua flew into the snowy city of Burlington, Vermont to collaborate with drummer Russ Lawton, organist Ray Paczkowski, and long-time Phish Vermont recording engineer Ben Collette. The excitement sparked an intense and healthy writing spree. Ari composed about 25 demos in all.  
Ari had already composed vocal tracks "Rae of Light" for his 90-year old grandmother's birthday, and "Gran-mama" for his deceased grandmother. It was a treasured experience to record these two sentimental tracks at The Tank in Burlington with such wonderful musicians.  
"When I arrived and we started to play, the chemistry and like-minded musical approach opened the doors to a memorable session that I will never forget," says Ari. "These guys were a lot like me, just serious, and ready to get to work."  
The trio managed to record versions of all 25 demos; mostly brand-new compositions and concepts. "Star Lord" was originally named "Country Hoppin," written while Ari was flying from the West Coast to the East Coast. He wrote "For Ray" for Ray Paczkowski to shine a light on his unique approach on the organ. "The Bernie Meme" was inspired by the viral photograph of Vermont Senator Bernie Sanders in his hand-crafted mittens during President Biden's inauguration — Ari was, after all, in Burlington, Vermont. The creative vibrations of life rippled through musical hearts and hands in a Northeastern snow-covered studio.  
The Vegas shows were a trial run for a potential tour.  Ari, Russ and Ray with the Echo the Dream team are taking about what to do next! :)