"Love for Sale!!" 
Ari Joshua Vintage Vibe Quintet, JAZZ ALLEY, Seattle, WA the August 10th & 11th, 2021 
The two night run headlining at Jazz Alley was a dream come true for diamond-in-the-rough guitarist Ari Joshua.  When Ari received the invitation to play from Jazz Alley, he accepted without hesitation. 
Jazz Alley rarely showcases local talent, but the staff heard Ari Joshua's recently released single 'Say Whatcha Wanna Say,' loved it, and asked for the same band to play a hole in their schedule.  Not everyone who had recorded the original SWWS was available; saxophonist Skerik, and drummer Grant Schroff were going to be out of town, but Ari was able to assemble an ensemble of renowned players quickly.  Immediately, Ari's manager, Jazz Alley promotional staff and Delvon Lamarr with Novo Productions started an eleven day whirlwind promotional campaign. 
It was a busy week preceding the Jazz Alley shows.  Ari had taken on a couple of gigs before the Jazz Alley invitation and, as always, when he's committed to playing he doesn't back out.  He played Tuesday August 6th at the Owl & Thistle with Jeremy Shanok's Jazz Lizards, Jacques Willis, Eric Verlinde, Isaac Castillo, Darian Asplund, Jory Tindall, and Floyd Reitsma alongside Eric Hullander & Jam Warden.  It was a combined Jazz Lizards CD release and birthday party.  The album is called Mythomorphosis and can be found on YouTube at https://www.youtube.com/watch?v=k4rLJY-tlk8.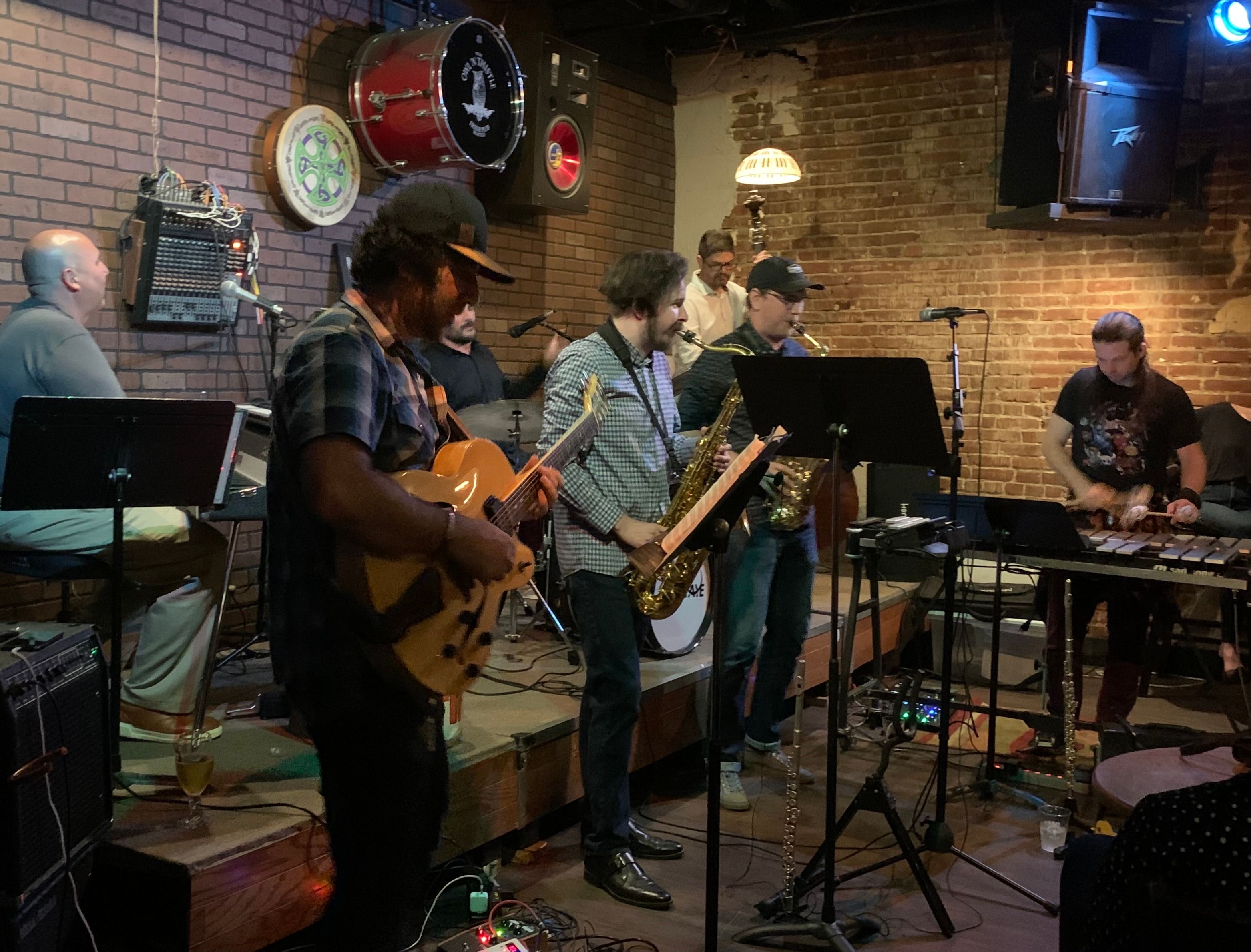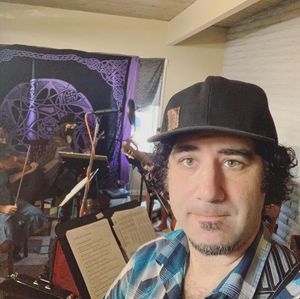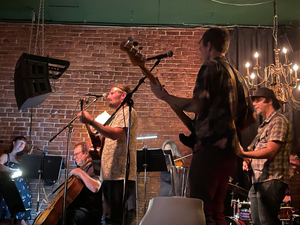 On Friday August 6th, Ari played in the indie rock vein at Conor Byrne Pub, in Ballard, WA, again supporting his dear friend Jeremy Shanok.  A full string section, and Blaire Rose, joined Ari and The Winter Shakers, with Jeremy as lead guitarist, singsong bass player Noah Byrd, and unabashed drummer Jordan Otto. The music was light and whimsical, yet the lyrics maintained a sweet and poignant air. 
Beyond rehearsing for and playing the shows, Ari prioritized preparing music for rehearsals the Jazz Alley shows.  Ari invited Art Brown to play tenor saxophone, and Luca Cartner of the Ari Joshua Band to play drums.  While Luca has had significant exposure to Ari's music playing with him frequently during the Streamer Studio livestreams November and December of 2020 during the Covid Pandemic shutdown, Art learned all the music within two weeks.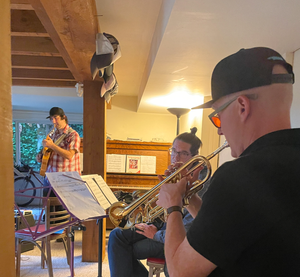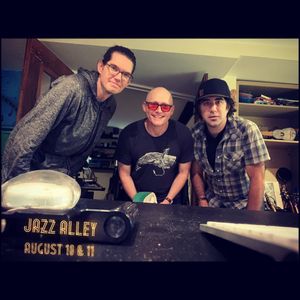 The addition of trumpet player Thomas Marriott to the bill required the creation of trumpet parts for the songs!  Ari spent hours working with Peter Daniel to write the charts for Thomas.  There's a recent article about Thomas's work in Earshot magazine.  He has been funded to pursue creating a new jazz club experience in Seattle, with the intent to provide an intimate small room traditional jazz bar styled experience to engage a new generation of listeners. Thomas learned the music in days! 
Organist Delvon Lamarr was part of the original recording ensemble, so he knew many of the songs already, but Delvon too had to quickly learn many of Ari's more recent originals.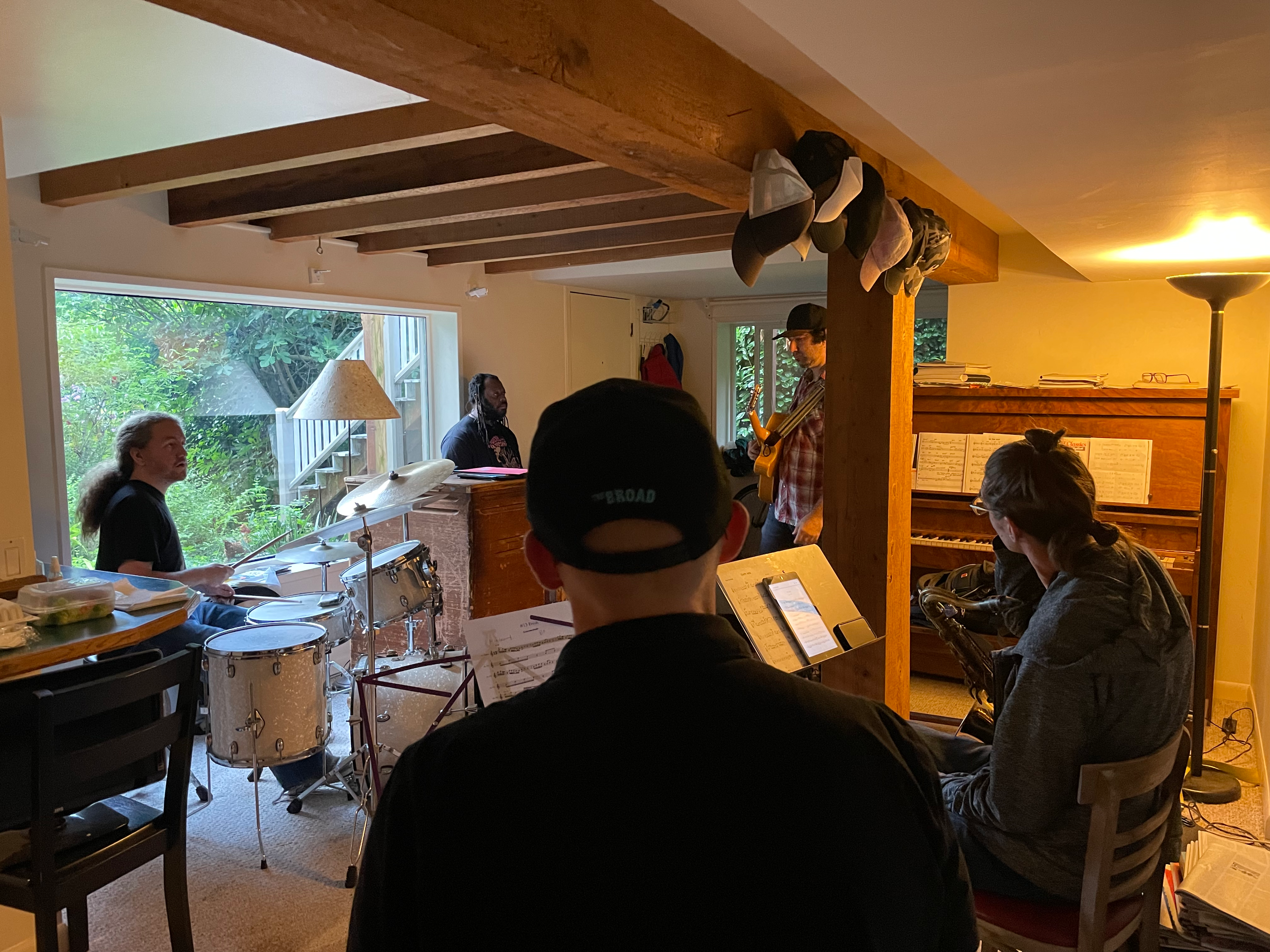 Luckily the group was able to squeeze in a couple sectional rehearsals, and one full group rehearsal at Ron Weinstein's home the Monday night before the first show.  They worked on 20 of Ari's original new songs to debut.  The entire ensemble, Delvon, Thomas, Art and Luca showed incredible talent and an impressive devotion to the music through their willingness to prepare so intensely, and in their professional intent to provide an amazing show despite the limited time.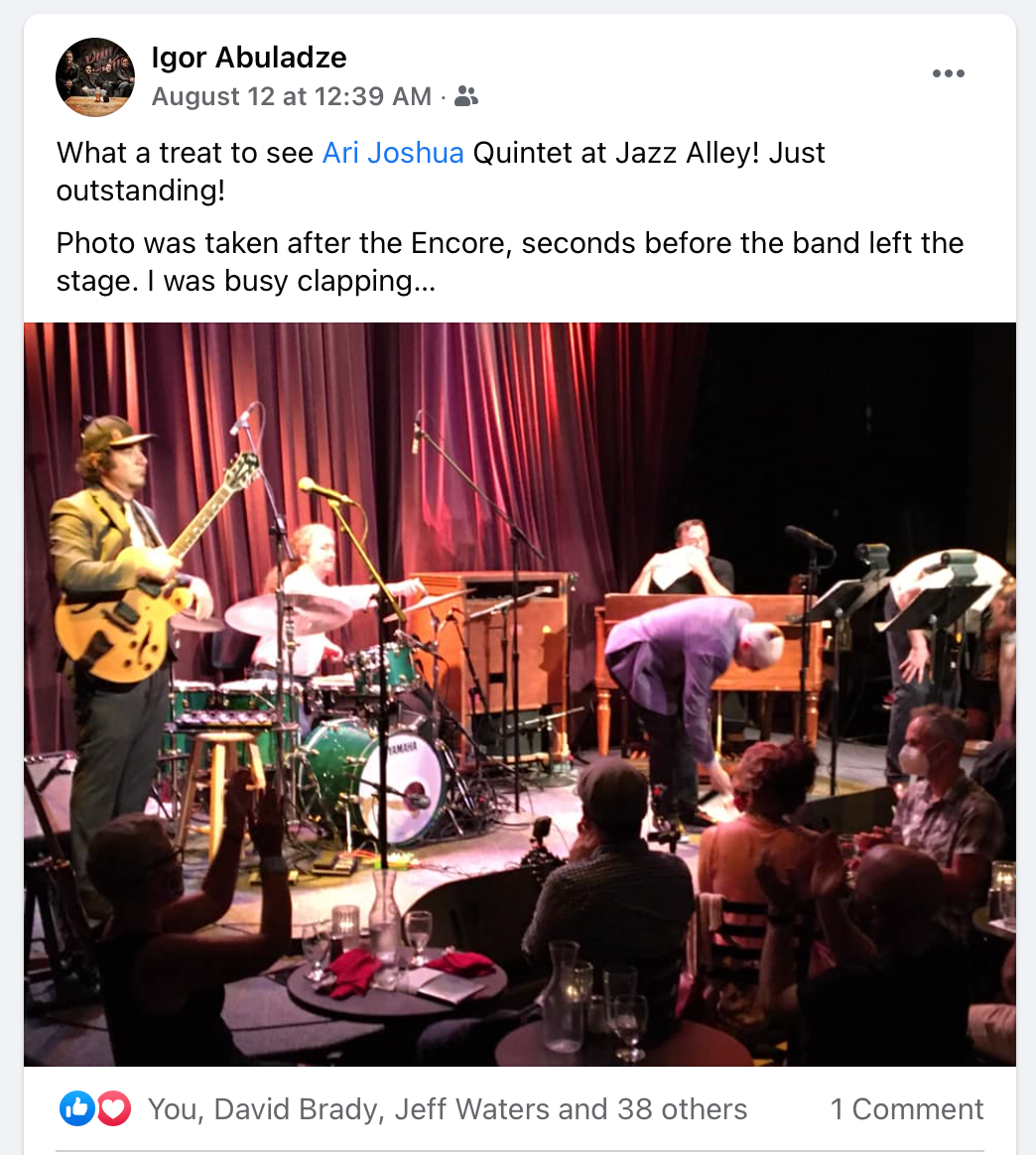 Dimitriou's Jazz Alley is one of the best venues to see music in Seattle.  The sound is great, and when purchasing tickets at www.jazzalley.com attendees can reserve a table of choice.  The place is widely respected by Seattle musicians, and national talent alike as the West Coast's finest jazz/dinner sit down venue. The venue is appropriate for all ages, young and old.  It was a perfect show to bring live music back!  What a beautiful milestone!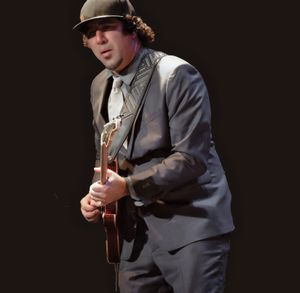 Ari expressed his awe, honor, and gratitude when the show was booked, "Jazz Alley is a place I saw many legends, Scott Brown, my high school band director, and Clarence Acox, created a culture of love for the music. I'd often seen cats like Thomas (trumpet) either playing there with Garfield Jazz, or I'd be one of the 5 kids hanging by the backstage door to meet Elvin Jones, Jim Hall, Pat Metheny, Bill Frisell, Roy Hargrove, Kenny Garrett, Jimmy Smith, Ray Brown, and countless others. I felt this could happen. Thank you!"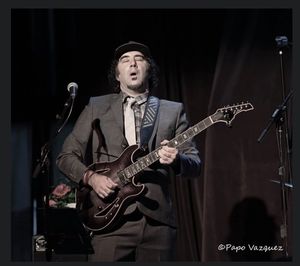 The event was a two day long release party, celebrating 'Say Whatcha Wanna Say' featuring Delvon Lamarr, Skerik, and Grant Schroff released in June, and the track 'Father Time' recorded in Burlington, VT at Tank Recording Studio featuring Ray Paczkowski, & Russ Lawton (of The Trey Anastasio Band, and Soule Monde) recently released on August 5th. 
"This is a childhood dream. Not only does this make me super happy to share my new music with you, (the music is #1). The better we do, the more Dimitriou's Jazz Alley will be excited to spotlight exceptional regional talent in the future!"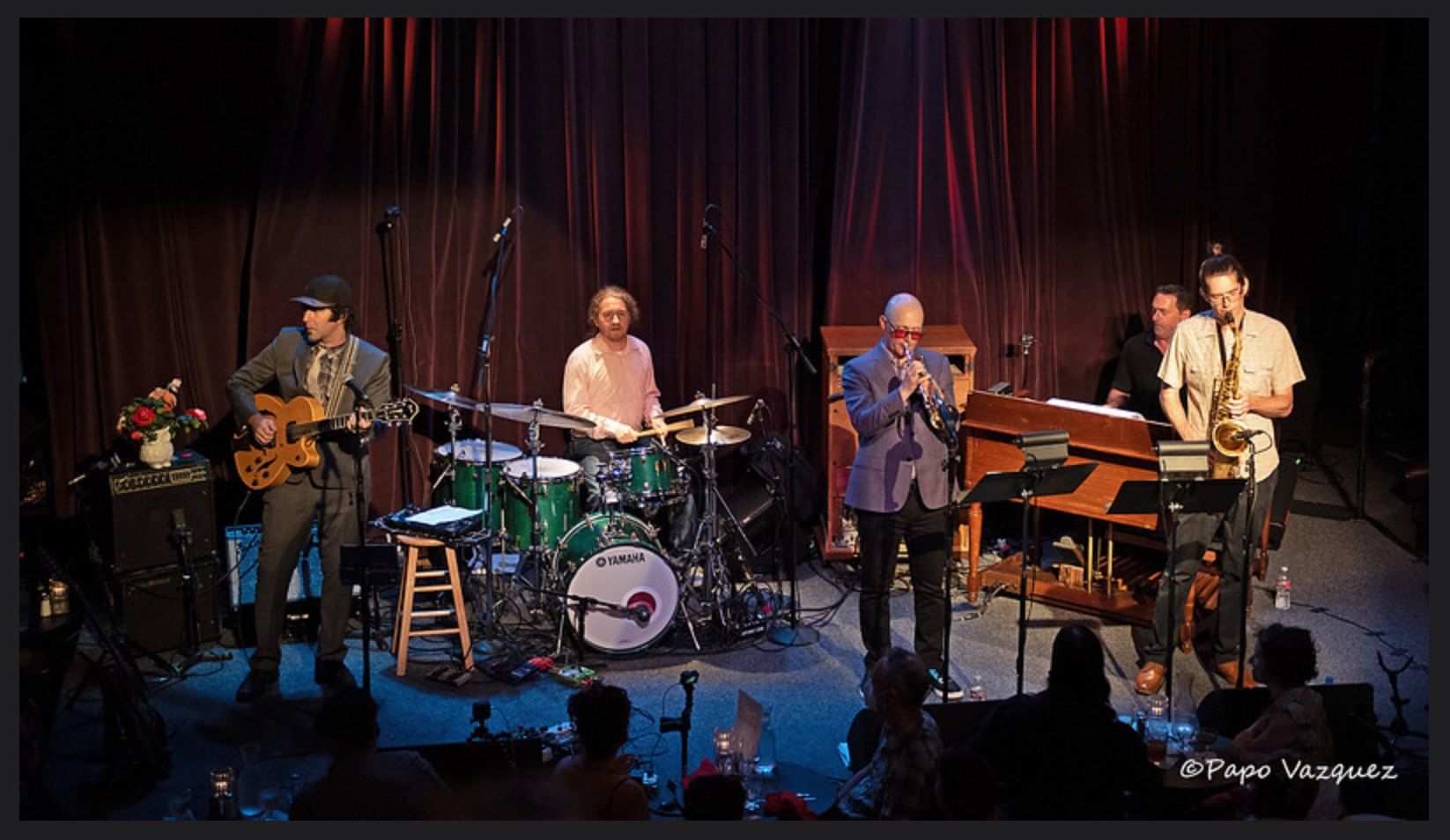 Following the first show on Tuesday, Ari posted. "Been waiting for this dream for a long time. What's better then a dream come true? Another night of the same thing tomorrow! One good thing about music? When it hits, you feel alright. An amazing band, a packed house of folks listening and enjoying every note. I loved it."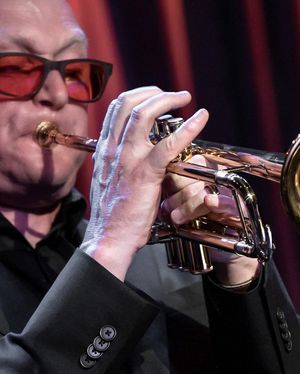 Ari felt honored to have such a incredible band with him at Jazz Alley. Few names in town are as respected and revered as Thomas Marriott. Ari said, "I thought of Tom as soon as I got the call from Jazz Alley. This goes deep. Back in High School, Roosevelt Jazz Seattle, and Garfield High School Jazz would trade off being ranked #1 and #2. The year Thomas was a senior (my freshman year), they were on fire. I saw him play 'A Night in Tunisia' my first week at RHS. I love everything he has done since then. When I was in NYC Thomas was living there, and I would check him out whenever I could."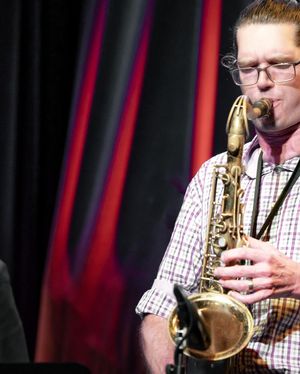 Art Brown has been traveling the country in the now famous afro-beat outfit The Polyrhythmics. He's a great player, and a sweet guy.
Drummer Luca Cartner is the fresh energy in the group. Luca and Ari regularly met up social distancing with masks during the pandemic.  The friends have spent many hours listening to music and talking philosophy.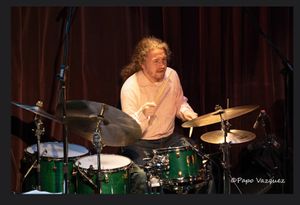 Delvon has been making a name for his band The Delvon Lamarr Organ Trio (DLO3), landing his brand of organ-jazz-backbeat grooves at festivals and clubs all over Europe, and the United States. Ari and Delvon have played countless gigs together over the years, but none since Delvon's career started to take off. This was a reunion!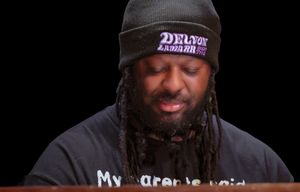 Delvon's wife Amy found out Wednesday afternoon that someone she was exposed to tested positive for Covid.  Efforts to get a reliable rapid test failed, so to protect the public, Delvon couldn't play Wednesday's show.  The team scrambled to find a replacement keyboard player.  We felt so much love from the depth of support available in the two hours before Wednesday's show time. 
Popular organ player and friend Joe Doria rescued the performance.  Joe and Ari have been playing for years. Joe knows Ari's style and was already familiar with some of the music.  The band rehearsed through sound check, and Ted the audio engineer at Jazz Alley put a keyboard in the green room.  Joe and Ari worked hard to be as prepared as possible for the last minute changes to the show. 
Audience member and friend Devin Michael Stedman made this post after Wednesday's show, "Had a change of plans so I went to see Ari Joshua's first shows at Jazz Alley. From the size and the enthusiasm of the crowd this won't be his last. The shake up is visceral here. I wonder how many artists of a certain age we won't see again here. So many greats played on this stage. I guess it's our time now."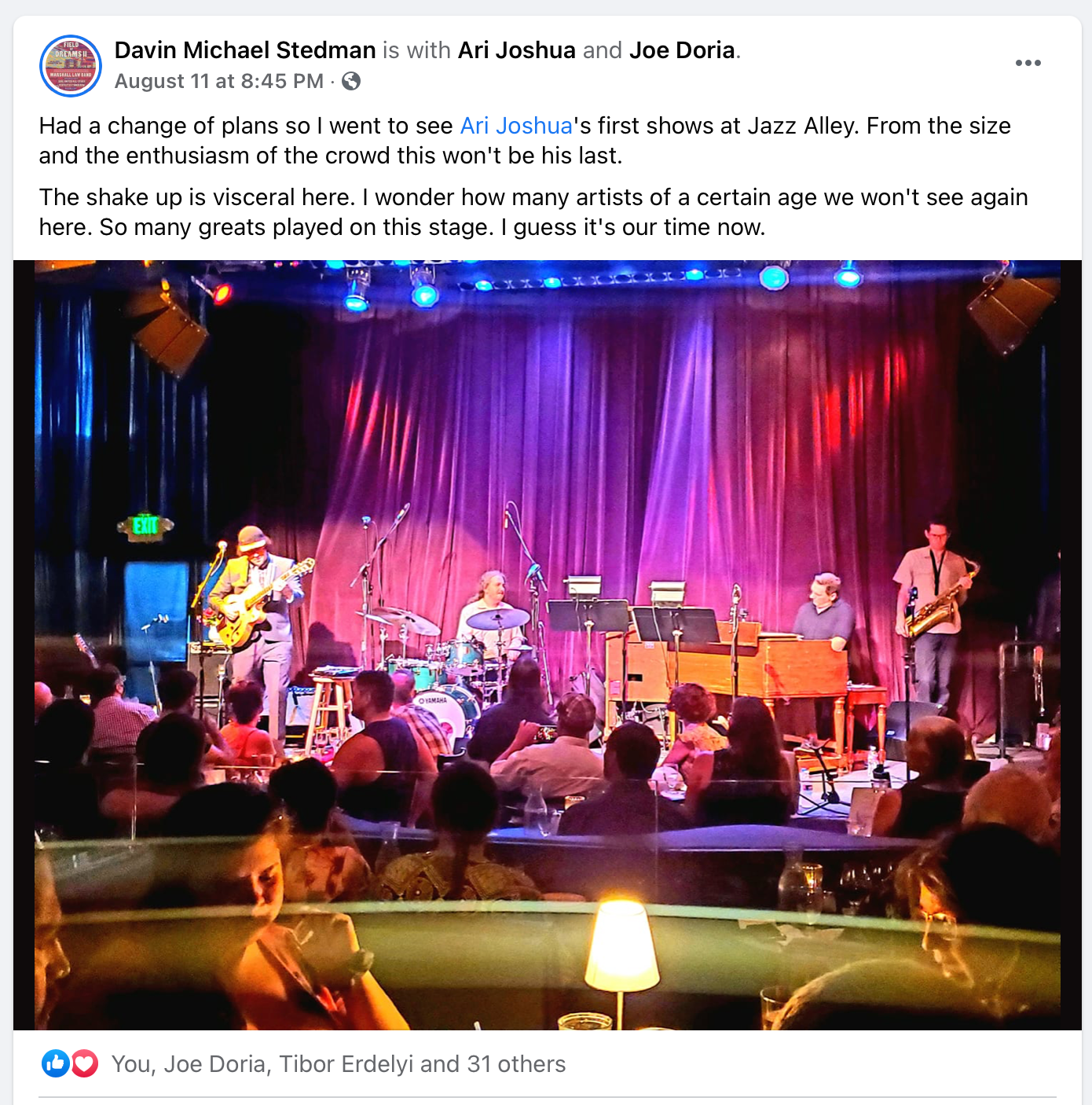 Both nights were magical in their won ways.  Tuesday had a more traditional relaxed jazz feel, the club was near capacity filled with music fans of all ages.  The almost sold out Wednesday show was higher energy, some repeat audience members from night one, and a room filled with support. The crowd was eager to hear the new music, and showed their enthusiasm by hooting and hollering throughout the night and dancing in the balcony.  Thank you, Jazz Alley!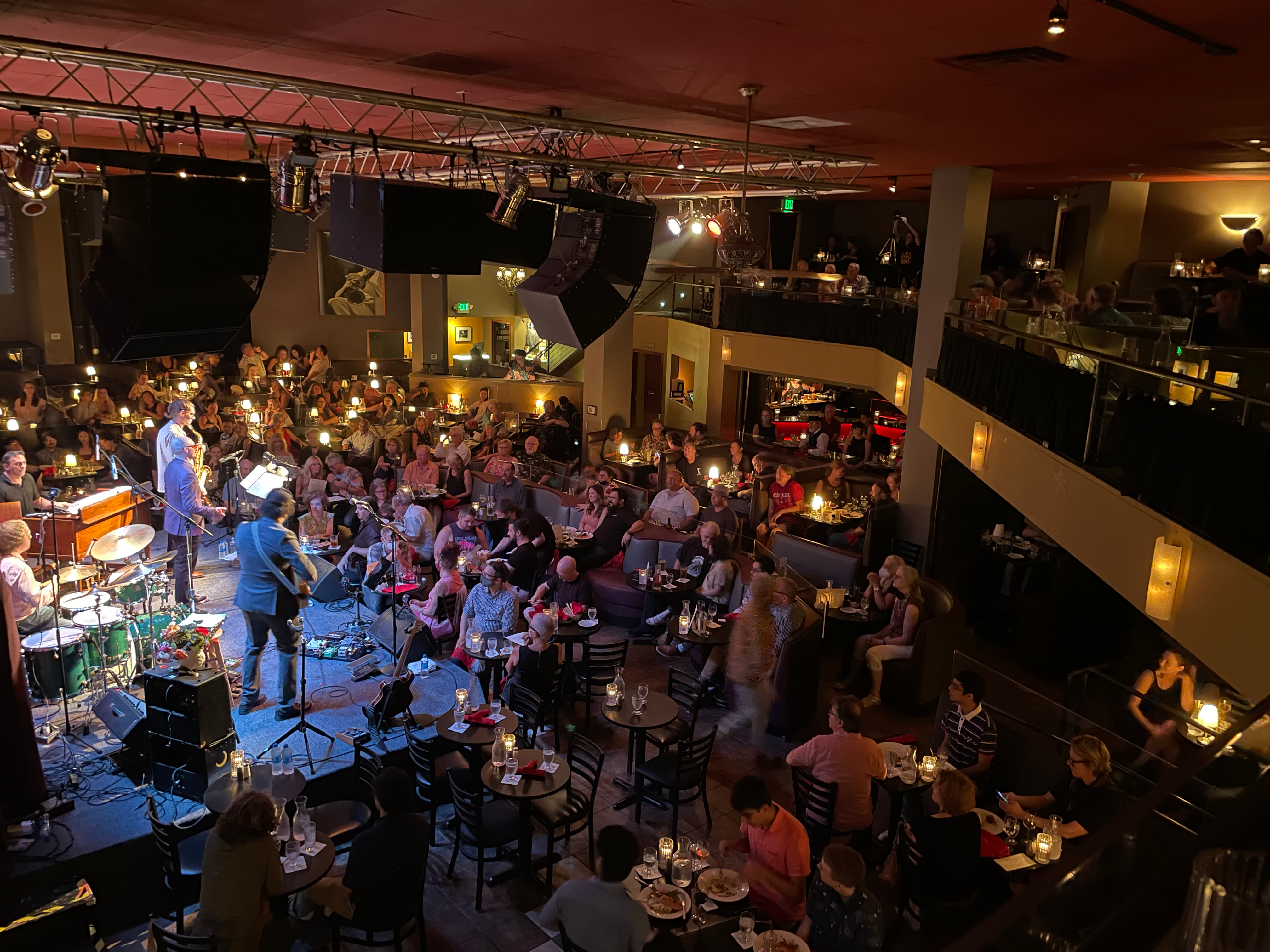 Jazz Alley was so damn fun & inspirational." Ari said.  "It's so great to see all the pictures, video clips, and to read all the wonderful comments. What a special few days!" 
Ari's mission is to spread love and light through music, and to serve the community, as he has for 14 years through his music school. The Music Factory has taught over 40,000 lessons, offering in-person and online lessons.  Ari is a Jazz/Psychedelic/Rock guitarist-singer-songwriter. Learn more and listen to sound clips at www.arijoshua.com.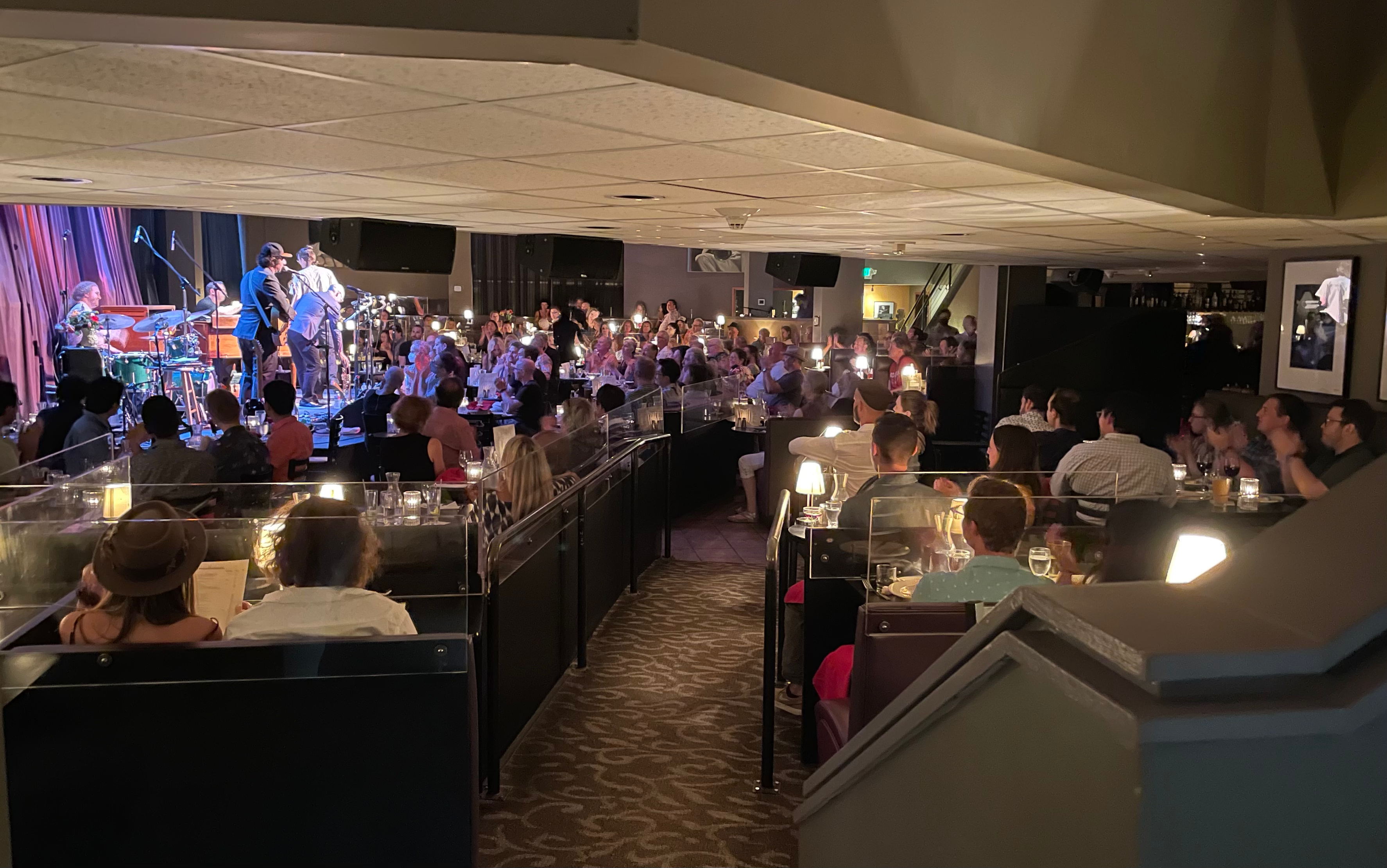 "Thanks to all involved: the players, Tom Marriott, Art Brown, Delvon Lamarr, Luca Cartner, and the rescue Joe Doria! Thanks to Melissa Goshe, Amy Novo, Michael Profitt, Brian Black Jazz Alley Staff: Rachel, Jessica, Rob, Ted, Charles, et al, KZ Media, Papo Vazquez, Steve Parent, My mom, Peter Daniel, and all the new faces and old faces alike. I love you all madly!"  -Ari 
To the rock, jam, and psychedelic music fans: You'd have loved the line up at Jazz Alley, but if you prefer a festival late night bar vibe and a more rocking jam oriented set of music, mark down ARI JOSHUA BAND Aug 21st for High Dive's opening weekend!  Join us in welcoming back live music!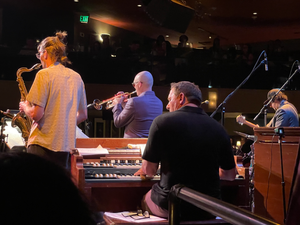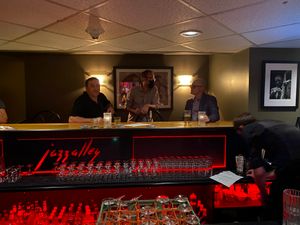 #thankyou #jazz #usa #hammond #guitar #drums #trumpet #sax #jazz#jamband #jambands #livemusic #hammondb3 #jazz #livemusic#treyanastasio #soulemonde #thetreyanastasioband #jazzalleyseattle #arijoshua #seattle #jazzalley #jazzalleyseattle #jazz #pnw#bellevuewashington #downtownseattle #newrelease #arijoshua #guitar  #jazz #jamband #jambands #livemusic #hammondb3 #allages#EarshotJazz Jazztalk Seattle Seattlejazzscene SeattleJazzED OffBeat Magazine DownBeat Magazine KNKX Public Radio #livemusic #guitarist#trumpet #music #shows #seattlemusic #supportlocalmusic #psychjazz#jazz #livemusic #gettickets #newmusic #originalmusic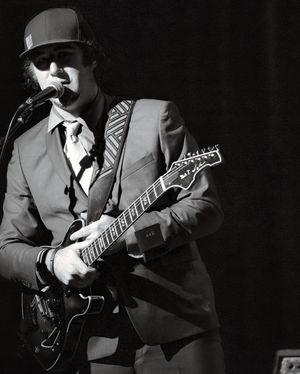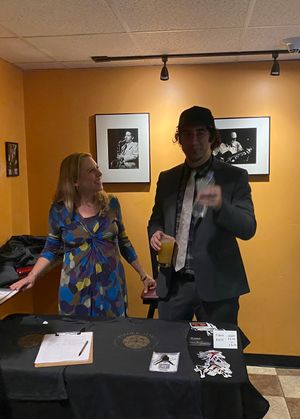 Ari Joshua Vintage Vibe Quintet 
Guitarist Ari Joshua featuring 
Delvon Lamarr - Organ 
Tom Marriott - Trumpet 
Art Brown - Sax 
Luca Cartner - Drums 
www.jazzalley.com
www.arijoshua.com