ARTICLE CONTRIBUTED BY
GRATEFULWEB
|
PUBLISHED ON TUESDAY, MARCH 28, 2023
Featuring members of The Trey Anastasio Band, Soule Monde, Big High, & Space Owl -- Ari Joshua, Russ Lawton, Ray Paczkowski
Another exciting musical project is emerging from an unlikely source - an old bicycle warehouse in the heart of Burlington, Vermont. The Tank, affectionately known to some as "the Phish Tank", hosted this session just after 'The Beacon Jams' sessions at the tail end of our national health crisis. The project, until further notice, is going by the acronym 'RAaR' for Ray, Ari, and Russ. Ari Joshua, the psychedelic composer, guitarist, and instrumentalist, has been sharing music from his vault since 2021, and '
The $1000 Question
' is his latest release. This sublime blend of jam, jazz, and psychedelic rock truly embodies the trio's signature style, with the masterful skills of groove legends Russ Lawton on drums and Ray Paczkowski on Hammond organ (both of Soule Monde and The Trey Anastasio Band). 'The $1000 Question' takes listeners on an  intricate and mesmerizing musical journey of funky organ breaks and spellbinding solos.  Suit up and take notice, & tell it like it is. This is a sound that will likely be play-listed by a wide variety of musical aficionados from jazz lovers, funk enthusiasts, & instrumental music lovers, to van dwelling, wookie-loving, vegan grilled cheese-eating, patch work-wearing Phish and Grateful Deadheads. 
With its colorful retro-inspired album art and groovy sound, 'The $1000 Question' marks Ari Joshua's ninth release of 2023, a testament to his unwavering commitment to his craft and his insatiable passion for creating music that pushes the boundaries of traditional genres. In February of 2023, Ari released 'Meeting of the Minds' featuring John Medeski and Billy Martin of MMW, and in late March  'Soul Mine' featuring Delvon Lamarr and Skerik will be out on Color Red Music. With each release, Joshua continues to cement his place in what is a culmination of decades of hard work and wood shedding. According to social media teases, Soule Monde is currently working on a new album as well.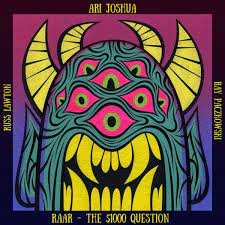 Credits for this release go to Ben Collette and Tank Recording for tracking and mixing, Fred Kevorkian at Kevorkian Mastering for mastering,  additional production by Aaron Harmonson. artwork by Martin Ontiveros, and layout by Z for Sugar Inc.
Personnel: Ari Joshua - Guitar, Russ Lawton - Drums, Ray Paczkowski - Keys.