Early show 8pm (all other shows at Howlin Wolf are 10pm till close)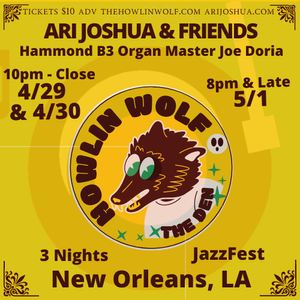 Ari Joshua drops into NOLA Jazz Fest for a few shows on the Grid, Bringing with him a trio of Hammond Organ Genius Joe Doria, and AJB Band Member Luca Cartner on Drums. Guests are expected to be featured and joining in all weekend into the wee hours!  

If you are fan of Jazz or Jam music you'll love Ari's playing which lands between Trey Anastasio and Jerry Garcia, and influences from the legendary jazz classics!   
Fresh off a few studio recordings, one with John Medeski, and Billy Martin of MMW, and another with John Kimock, Andy Hess, and Eden Ladin... Ari flew back to his music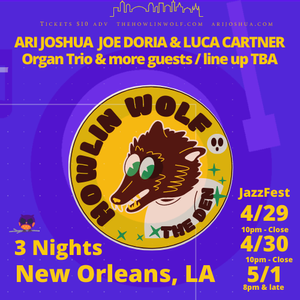 school The Music Factory to take care of some business, and in the process landed a booking at Howlin Wolf! We are bringing in a vintage Hammond Organ, and a dear friend, long time collaborator, one of the best players in the country,  Joe Doria! Original music, mixed with classic boogaloo, Ari will bring his Languedoc Custom guitar, and his vintage 1968 Guild Hollow Body!  
April 29th Doors at 8pm  
Show 10pm - 3am or longer  
April 30th Doors 8pm Show 10pm till Close  
May 1st Early Show 7pm - 8:30pm  (possible late night as well after the brass band at 9)