Music Factory Founder Ari Joshua heads East.  
1/20/2021 — Burlington, VT.  
After quarantining, guitarist, Ari Joshua, will be collaborating with Trey Anastasio Band and Soul Monde players Russ Lawton and Ray Paczkowski next week.  While it's tough to perform live music during Covid, the creative vibrations of life are still rippling through musical hearts and hands in a Northeastern snow covered studio.  
The Lawton/Paczkowski/AriJoshua collaboration was born from a mutual love of music, the Hammond organ, and organ trio music, but the boys intend to explore a wide variety of genres and feel during the discovery session. Ari recently released three jazz tracks available on his website www.arijoshua.com, with more music to come.  
Jan 30, 2021 Ari is Quarantined in Room in Burlington, VT  
An invitation to collaborate with some beautiful musicians is in motion pending a c19 test. More news here as there is not much to do in a room by ones self... other then sleep, watch tv, and shower for no reason.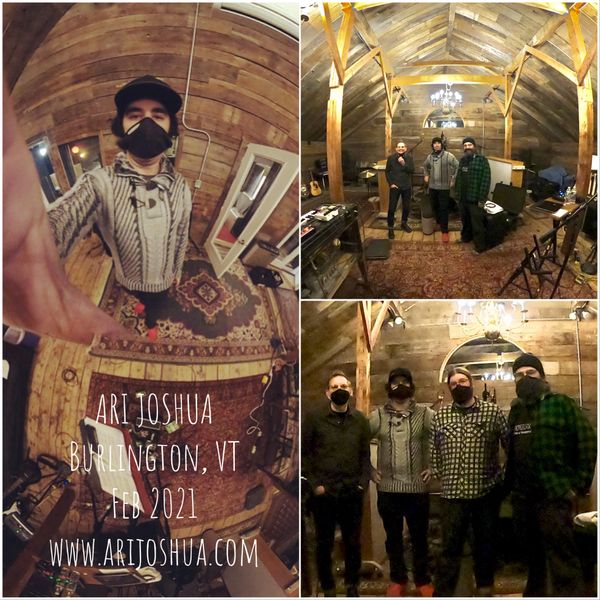 Feb 6, 2021 One Day and so far and its been wonderful. Engineer Ben Collette, Ray Pazcowski - Organ/Clav, Russ Lawton - Drums - I feel completely natural and at home so far over here. Looking forward to a week of new material! Almost too at home, so excited I may have forgotten to sleep… 
End of Day One: listening back w Ben C! Shout outs to Ray & Russ (who are great people / Keys n Drums from SoMo, Trey Anastasio Band, and Vermont locals) Burlington is great! Quarantine isn't so bad when there's music at the end of the funnel! If your new here please like and follow us all for more! 
Feb 10 Update
Rehearsal up in the snowy mountains of Vermont, aside from reviewing new material to record...  Today, we learned about the 'Vermont Rock' a technique used to get mini vans out of the snow. It involves rocking the van whilst a skilled driver (not me, in this case - Russ) applies the right amount of pressure & wheel turning while two people push the car forward. As the vehicle gets pushed back, it rocks back forward due to the pressure on the ice and snow. After gaining inertia, on say the 4th rock, the driver then takes over in collaboration with an additional 'BIG PUSH' by the pusher people which gains yardage towards the communal goal. In serious situations such as the one experienced,  it may take several reiterations of the technique to free the van back into its natural habitat (the open road).